Amana Refrigerators
Amana Refrigerators Offer Top Rated Performance
Amana Refrigerators have been around for close to 70 years and was founded in Amana, Iowa.
The original business was called Amana Refrigeration and was best known as the first company to build a home upright freezer who then moved into side by side refrigerators in 1950.
The company continued developing high quality refrigerators and refrigerator freezers for the next few decades and today stands as a leader in high quality, affordable, refrigerator products.

Although Amana Refrigerators was acquired by Maytag in 2001, they have now been folded into Whirlpool. The Whirlpool Corporation has been on a buying spree as of late and recently acquired the Maytag brand in 2006.
---
---
Amana Refrigerators


Reviews

If you're ready to jump right into reviews, we've got them and they are even broken down by style and the top 3-4 of each. Just click on any of the links below:




Amana French Door Refrigerator Reviews
Click here.


Amana Side by Side Refrigerator Reviews
Click here.


Amana Bottom Freezer Refrigerator Reviews
Click here.


Amana Top Freezer Refrigerator Reviews
Click here.



---
---
Amana Refrigerators


Top 3 Models


Amana has a number of refrigerator models out on the market.  We try our best to identify the very BEST of what Amana Refrigerators have to offer in each style category.

Take a look and if you can't find something that appeals, make sure you check out the many other refrigerator brands that we cover.




---


BEST AMANA FRENCH DOOR: 


The Amana AFD2535DEW French Door Refrigerator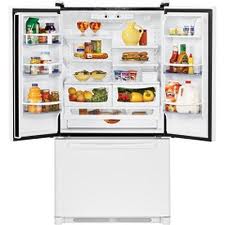 OVERVIEW:  The Amana AFD2535DEW French Door Refrigerator was recently rated a Consumer Reports best buy. 
We loved the look and features of this particular model. The refrigerator review showed that it effectively maintained temperature and the features were top notch for the price range. 
The only two complaints we found were that the handles were made of plastic which we felt deterred from the overall look and feel, and that the ice maker worked a bit slower than desired. 
But overall, we felt this to be a very strong model.  Read the Full Review.
---
---


BEST AMANA SIDE BY SIDE:


Amana ASI2275SRS Side by Side Refrigerator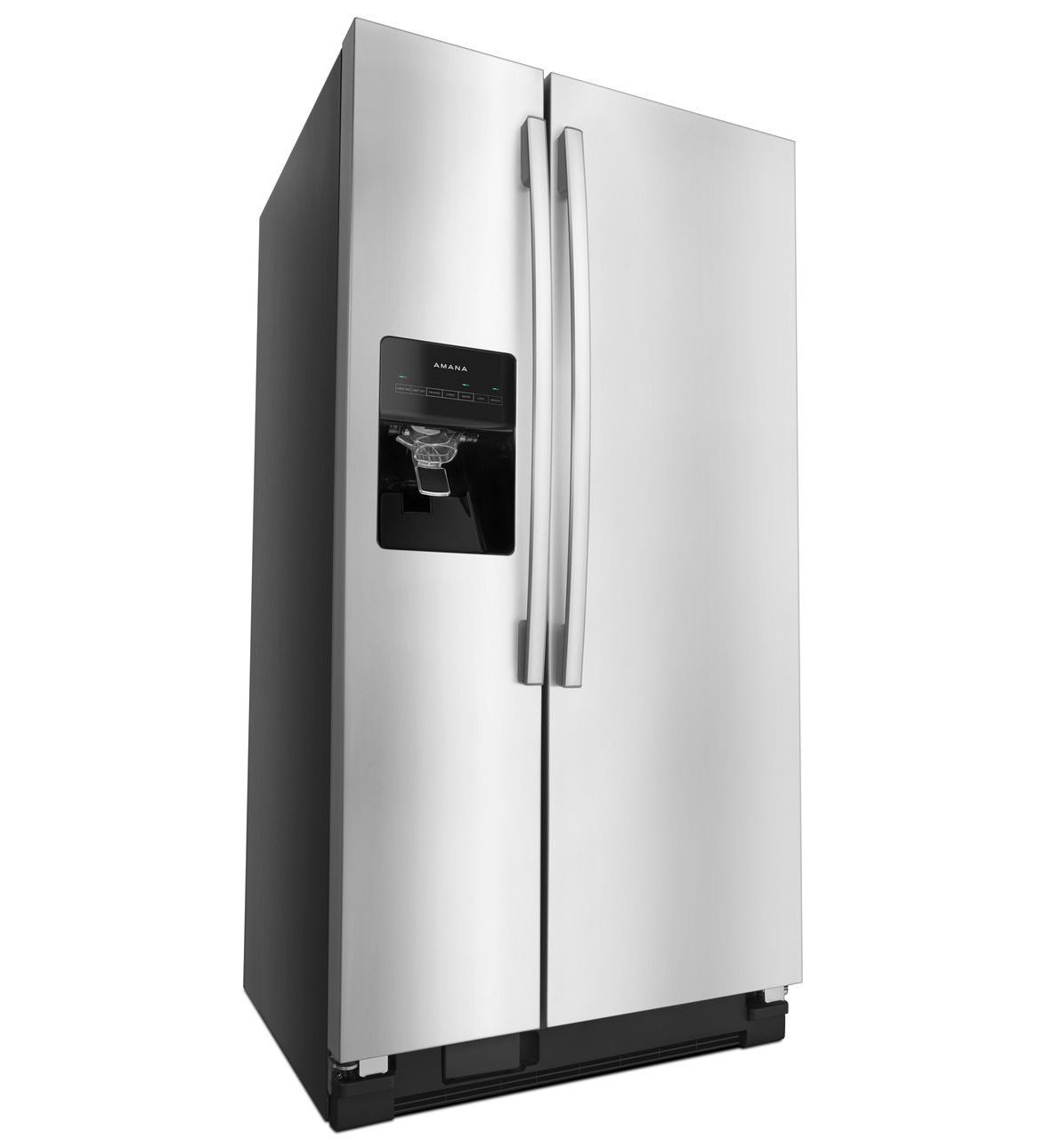 OVERVIEW:  The Amana ASI2275SRS Side by Side Refrigerator was by far one of the best side by side refrigerator reviews we have covered in this price range. 
It has an attractive design, it holds temperature efficiently and effectively and it comes with a wealth of features that make this model a true standout.
---
---


BEST AMANA BOTTOM FREEZER:


Amana ABB1921DEW Bottom Freezer Refrigerator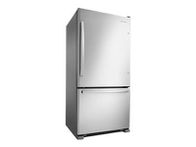 OVERVIEW:  The Amana ABB2224BRM Bottom Freezer Refrigerator is a 22.7 cubic foot stainless steel dynamo.
This refrigerator has an amazing reliability and has consistently been touted by Consumer Reports as a Best Buy.
It has a pull out drawer rather than a swing door allowing easier access to your frozen food items as well.  Read the Full Review.
---
---
BEST AMANA TOP FREEZER:


Amana ART318FFDS Top Freezer Refrigerator

OVERVIEW:  The Amana ART318FFDS is one of the more affordable top freezer refrigerators. 

At just under $800, it's a great bargain.  It's not exactly crammed with high end features, it does get the job done.

We strongly suggest you purchase the optional (self install) ice maker.  Nothing worse than ice trays.



---
---


Amana Refrigerators


At a Glance





Of the various models available, we found there was a definitive consistency of quality, looks and durability that only GE could come close to matching. Especially within this price range (of about $500-$3,000)

Depending on the model you purchase, you should expect a life span of approximately 10-20 years of uninterrupted service.

Although not quite as extensive a line as some other brands, one thing we did like was the wide variance of affordable styles that are available.



---


Amana Refrigerators


Popular Features



There are a number of great features that keeps this brand at the top of the charts when it comes to consumer satisfaction and value for the money. Some examples are:



Easy Freezer Food Organizer which lets you organize and access your food with greater ease and control than ever before!

Interior Fridge Faucet: Instead of an exterior door dispenser, many models have the EasyFill internal filtered water dispenser which puts out cold, clean water any time you need it.

Temp Controlled Drawers: This allows you to put all your cheeses and deli meats in plain sight in humidity controlled drawers adding to the lifespan of your foods.

Lastly, the Energy Star label is on a number of these models and considering the annual energy savings you could potentially realize, we highly recommend you keep an eye out for this tag.
---
Related Articles
We want to make sure you're as informed as possible, so please find below a number of links to more information to help you discern whether or not this is the brand for you.
---
What Do You Think of Your Amana Refrigerator?
If you want to see Amana Refrigerator Reviews from others then scroll down to the bottom of the page but we need YOUR opinions and experiences, too! This way you can help and be helped.

Here's a few things to tell us:

1. What's the model number and style (e.g. french door, side by side, etc.) of your refrigerator?
2. How long have you had it?
3. Do you love or hate it and why?
4. Was it reliable? Would you recommend it?
5. Anything else YOU THINK we should know!

Tell us your whole story! We hear from people every day who want to know what you have to say. Your review could very well help someone else make the right decision!!
What Others Have Said About Their Amana Refrigerators...
Wondering if your Amana Refrigerator is part of a recall?
Click here to find out!
Click on the links below to see reviews written by other Amana refrigerator owners...
---