Amana Bottom Freezer Refrigerator Reviews
The Best Amana Bottom Freezer  Refrigerators on the Market
We've just updated our list of the best Amana Bottom Freezer Refrigerators available today. 

Although Amana is one of the most prolific manufacturers on the market, they have a rather limited selection of bottom freezer refrigerators.

They believe in the Good – Better – Best concept and have added that idea into their refrigerator line.
To make things even easier we've gone through and done reviews on the top three single door bottom freezer refrigerators that we feel are worth your taking a look at.
Tip: Remember to read all the reviews rather than just the one model you might already have in mind. You might find a feature set, color or style you were totally unaware of!

---
Amana Bottom Freezer Refrigerator

Our 3 Favorite Models
Here are the Good, Better and Best options in the Amana Bottom Freezer choices.  We've tried to identify the best prices on the net as well.  
---
The Amana ABB1921BRM

Bottom Freezer Refrigerator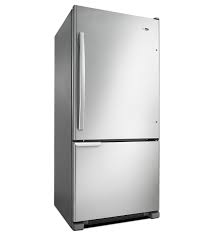 OVERVIEW:  The Amana ABB1921BRM Bottom Freezer Refrigerator has 18.7 cu. ft. of internal storage space. 
3 SpillSaver glass shelves and 2 humidity controlled produce drawers. It also has gallon door storage which is amazing.
The freezer has a Glide-Out Wire Lower Freezer Basket with QuickSplit Organizer allowing you to fully maximize every ounce of storage space this refrigerator has to offer. 
---
The Amana ABB2224BRM Bottom Freezer Refrigerator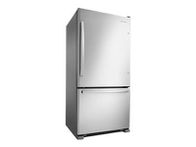 OVERVIEW:  The Amana ABB2224BRM Bottom Freezer Refrigerator is a 22.7 cubic foot stainless steel dynamo.
This refrigerator has an amazing reliability and has consistently been touted by Consumer Reports as a Best Buy.
It has a pull out drawer rather than a swing door allowing easier access to your frozen food items as well. 
---
The Amana ABB1924BRM bottom freezer refrigerator
OVERVIEW:  Another RefrigeratorPro.com favorite, the Amana ABB1924BRM bottom freezer refrigerator is a great buy and is loaded with features.
Like it's cousin above, it also has a pull out bottom drawer which is frankly much more convenient for accessing your frozen food items. 
The Quick-Split organizer system makes this an easy choice especially for those who hate having to sift around their freezer.   
SpillProof glass shelving is another huge win for this already impressive refrigerator. 
---
Amana Bottom Freezer Refrigerator

Other Models Worth Considering!
Amana ABB1921 Bottom Freezer Refrigerator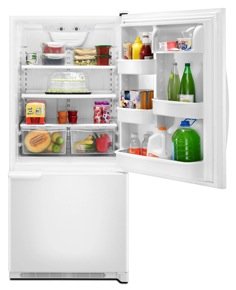 OVERVIEW:  This 18.5 cu. ft. Amana bottom freezer refrigerator falls into what Amana calls the "good" category.

It is a great basic refrigerator that will take care of your needs without too many bells and whistles at a price you'll be very comfortable with.

While it's not flashy, if you are in the market for a bottom freezer refrigerator, it is a must see.
---
Amana ABB1924WES Bottom Freezer Refrigerator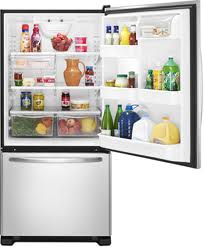 OVERVIEW: This models falls into the "Better" category in Amana's eyes and it's easy to see why this model is definitely a step up.

First of all, this Amana Refrigerator only comes in many different finishes, including stainless steel. There are more storage organization possibilities and it also has a reversible door swing as well as which is perfect for any kitchen. 

What was so amazing about this fridge as well was the really great deals you can find it for. 
---
Amana ABB2224WES Bottom Freezer Refrigerator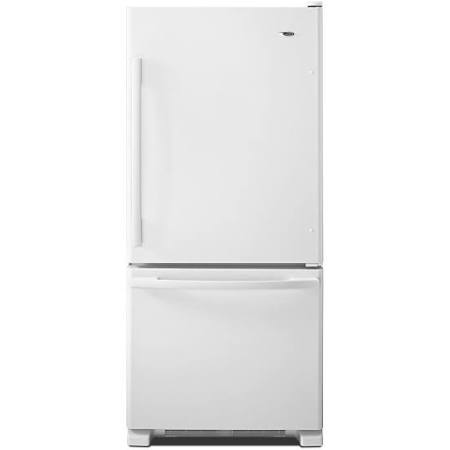 OVERVIEW:  Now we're talking "best" according to Amana. The first difference we found was the increased storage capacity at 21.9 cu. ft.  as well as easy organizational features of crispers, deli drawer and a dairy compartment.

The MSRP on this Amana bottom freezer refrigerator was quite good though once we did some research we found it even cheaper. 
---
 Amana ABB2221WEB Bottom Freezer Refrigerator

OVERVIEW:  While this model doesn't fall into what Amana terms their good, better best, we still felt it was a model worth reviewing.

It should fall more into the better category but it has the extra space of a best as it has 21.9 cu. ft. of storage space.

As for the price, it is quite comfortable for a mid-range bottom freezer refrigerator. Take a look for yourself. 
---
---

Amana Bottom Freezer Refrigerator
Related Articles
Amana French door Refrigerators: Now that you've seen the single door bottom freezers we really recommend that you take a look at the double door or French door versions. They add a great deal without a huge price difference.
Amana Refrigerators: If you really want to get an Amana refrigerator but aren't sure which style is right for your needs, then this page will show you every Amana option there is.
Bottom Freezer Refrigerators: If you're still certain about a single door bottom freezer refrigerator but not so much about the above choices from Amana, here's a list of bottom freezer refrigerators from almost every brand on the market.
---