Freezerless Refrigerator
Top Rated Freezerless Refrigerator Models
Let's face it, sometimes you just want a Freezerless Refrigerator. We've heard from many people how it can be so hard to find one when every model that's out there has a freezer attached to it! So, we've gone through the painstaking research of reviewing a number of refrigerators without freezers and narrowed down the selection substantially.
Different Needs for Different People
Depending on what your needs are, there are a variety of ways to go with a Freezerless Refrigerator. Some people just want the extra storage space that another refrigerator will offer.
Others are looking for more of a design element that gives them a full width refrigerator along with a full width freezer. You might also be looking for a refrigerator without a freezer for some sort of commercial application. Whatever your particular needs are, there is a model that will work for you.
---
Best Rated Freezerless Refrigerators
Here is a list of some of the best rated
refrigerators without freezers
. In no particular order:
---
Frigidaire FPRH19D7LF
18.6 cu. ft. Freezerless Refrigerator - Stainless Steel Cabinet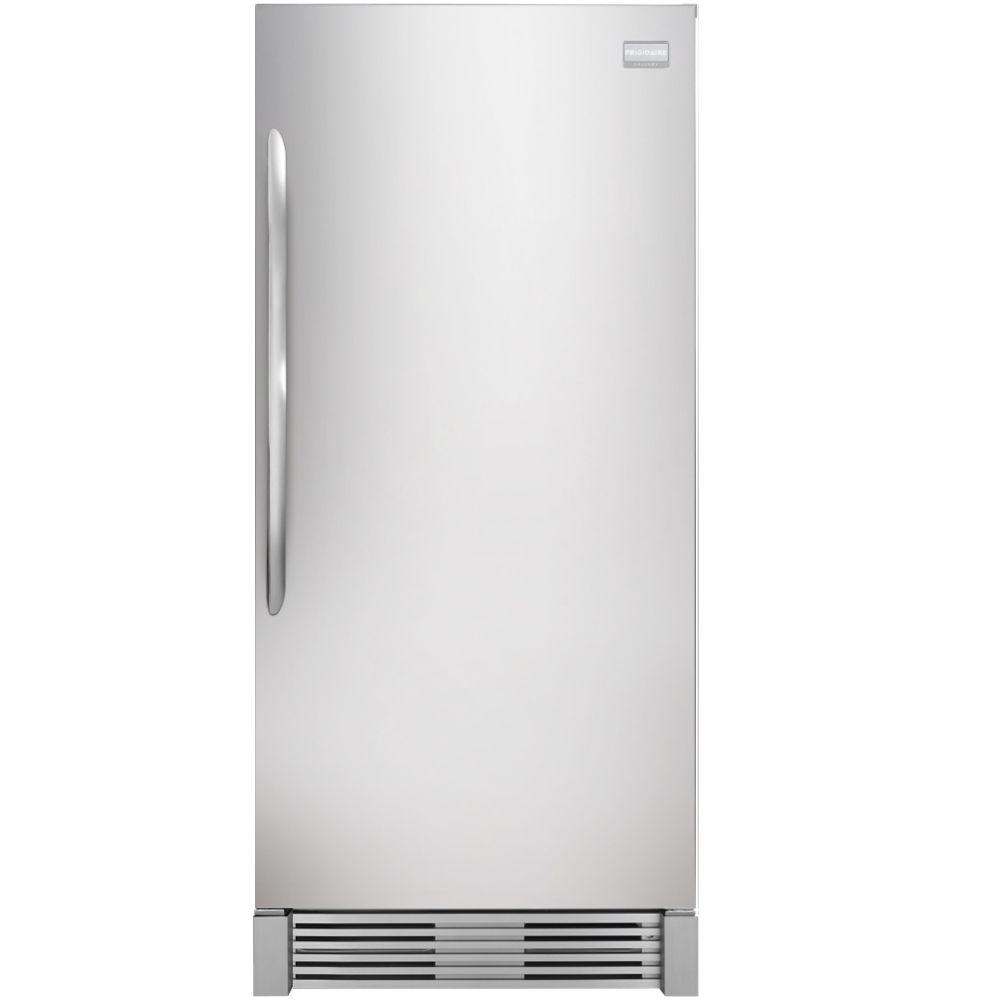 Overall: The Frigidaire PLRU1778ES is a 32" wide refrigerator that will give any kitchen (residential or commercial) a gorgeous new look. This beautiful freezerless refrigerator is EXTREMELY affordable (at under $1,500.00) but has the features and looks of refrigerators that go for more than twice as much. Pair this refrigerator up with the Frigidaire Free Standing Freezer and you have a beautifully unique combination you won't be able to find from anyone else.

Notable Features:
Designed to Match the Frigidaire PLFU1778ES Stainless Steel Freezer.

It has a 18.6 Cu. Ft. Capacity which is simply HUGE.

The Automatic Door Closer keeps it cheap to run.

The Easy Care Stainless Steel Exterior and Frost Free feature makes maintenance a breeze with this unit.

There's lots of storage from the 3 Cantilever Glass Shelves and the lower Crisper to the 4 Clear Adjustable Door Bins.

It's Energy Star Certified and it does come with a Sabbath Mode (Star-K certified).
If you need an economical solution regarding a freezerless refrigerator, then this is one to definitely worth checking out. Just take a look at the MSRPs for both this refrigerator and the Gaggenau above -- the one above is 4 times more expensive. While the Gaggenau and Miele may last you a lifetime, who cares if you can buy 3 more for the same price.


Cons: It is huge on the interior and unless you can keep it full all of time it will be difficult to keep from using a great deal of energy. (Though you can always fill the empty spots with gallons of bottled water to help keep the temperature constant.)
MSRP: $1549.00 is what they recommend it being sold for but we've searched the net to try to find you a great deal. Take a look at what we've found:
Take me to Frigidaire Refrigerators
---
Electrolux EI32AR65JS
19 cu. ft. Built In Freezerless Refrigerator - Stainless Steel Cabinet
Overall: This refrigerator has been compared to Viking as for it's overall quality and features. It is also 32" wide with a very sleek design. The biggest styling difference between this model and the Frigidaire above is that there is no venting at the top of this freezerless refrigerator. While it is not as affordable as the model above, it does come with a few more bells and whistles and it is also a built in model instead of freestanding.
Best of all Electrolux also makes an all-freezer model that pairs up with this one to add both beauty and functionality (Electrolux EI32AF65JS).
Notable Features:
Size and Organization: At 19 cu. ft. you should be able to fit almost anything everything in this model but size isn't all that this offers. Electrolux went out of their way to make sure that it had many really great and easy to use bins for everything from produce to meats and dairy. As for the door bins, they are easily removed for larger items and tilt out for easy access.

Food Always Tasting Like It Should: This may not seem like a big deal but how awful is it to take a bite of a piece of fruit that tastes like last night's salmon? Yuck! This refrigerator has a specialized air filtration system that keeps all of the smells (and tastes) out of the air and away from your food.

Refrigerator Alarm: This little feature can save you hundreds of dollars in spoiled food by letting you know if the door has not been properly closed. It also has a special little feature that tells you if it's lost power due to an electrical outage and if the internal refrigerator rose to over 56 degrees for more than an hour. This will help you to know if you need to empty out your fridge or if the contents are still safe.

A great feature for those who live in areas that lose power often - it will pay for itself quickly.

Very Quiet: We get asked all of the time for a fridge you can't hear, well this one falls into this category.

This model is also Energy Star rated and Star K certified (with a Sabbath mode).
Cons: Again this model is also quite large and will cost more to cool if not fully filled with food (as would any refrigerator). As we mentioned above, you can place gallon bottles of water in the empty areas to maintain the temperature but if you don't really need all of this space you may want to reconsider a freezerless.
MSRP: $2199.00 is what Electrolux thinks it should sell for but we've seen it for as low as $1999.00. Take a look at some of the sales prices on this fridge below:
---
3 Things to Consider When Buying a Freezerless Refrigerator
We've managed to do a refrigerator review of dozens of refrigerators without freezers. We've found that no matter what functional needs you might have for your unit, there are certain traits and features you'll want to look for when buying a stand alone refrigerator.


CAPACITY: The capacity of most stand alone refrigerators is much larger than your standard refrigerator freezer. Take into account the width and depth needs that you have specifically to help you make the right choice.




EFFICIENCY: A lot of the refrigerators without freezers models that we tested had efficiency problems. Much of it is due to the fact that you have a large refrigerator door that once open, lets out the majority of the cold air. Since this isn't exactly something that can be helped, you want to consider purchasing a model that is Energy Star Certified and is well insulated so that it uses as little energy as possible.




STYLE: If you're using the freezerless refrigerator for commercial purposes, you may not have much of care about the particular style of the unit. But, if you're buying one for your home, consider what your likes and dislikes are. Many of these units are available in Stainless Steel or Titanium finishes which blend well into just about any existing kitchen decor.
---
A Few More Freezerless Models To Consider
If the two models we mentioned above didn't fit what you were looking for, then here are three more models that you may want to consider:
---
Stainless Steel Refrigerator Reviews


Refrigerator Reviews