Smart Refrigerator Reviews

Here are the Top 5 Smart Refrigerators on the market for 2020

We wanted to provide a number of Smart Refrigerator Reviews as this is by far the hottest trend over the last 10 years.  We've just updated the list for 2020, so be sure to sift through to find the best model.

We narrowed down the list to only the very Best Reviewed and Best Rated Refrigerators.
Smart Refrigerators are more than just a fad, they're here to stay.  So, we've tried to identify those models and brands that have the features that are worth paying for and avoiding those that don't.
There are so many different technologies.  Some are AWESOME and some are frankly, just ridiculous.  That said, Smart Refrigerators have made some huge strides over the past 3-5 years.  So let's get to the list!

Tip: If you don't find what you are looking for today, check back again soon as we update this list often.
---
Our Top 5 Smart Refrigerator Reviews

We've reviewed a lot of Smart Refrigerators over the past couple of years, and only a handful have routinely made it on our list. 

To determine a Smart Refrigerator's placement on this list, we looked at the following characteristics:

Quality of Available Features
Durability
Price
Cleaning Ease
Functionality
Styling
---
1. Samsung RF22K9581SG 4-door Family Hub French Door Bottom Freezer Refrigerator - Best TECH!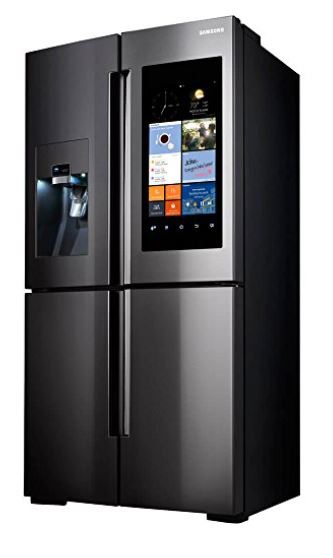 OVERVIEW: The Samsung RF22K9581SG Family Hub French Door Refrigerator is consistently one of the best reviewed refrigerators available.  While it's internal size is a bit smaller, it's a great update for a home with 2-3 people.
It uses Samsung's unique BIXBY technology.  (Samsung's Alexa like tech.)  In our Smart Refrigerator Reviews, it's a constant favorite of consumers.

Considering the typically high cost of a counter depth refrigerator we were surprised at how inexpensive this model was.  Definitely a model to worth considering.
---
2. LG Insta-View Door in Door THINQ
Smart Refrigerator - Great for FAMILIES!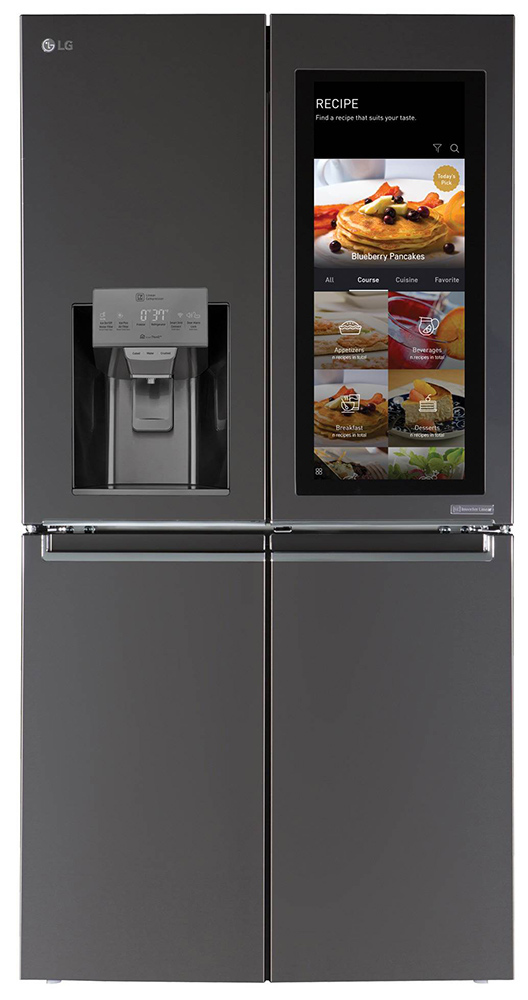 The LG ThinQ Smart Refrigerator Four Door Refrigerator is one of the most complete Smart Refrigerators on the market.  (And just when you thought we couldn't put the word Refrigerator four times in a sentence!)
It's the perfect family refrigerator as the Insta-View feature allows you (or the kids) the ability to simply tap twice on the window and the interior lights up.  If you just touch the screen, you can use the touch screen panel to look up recipes, check the weather and much more.  
Can't remember if you bought milk?  Interior cameras allow you to see inside the fridge from your phone to better determine what you have and what you done.
LG InstaView ThinQ uses deep learning to add layers upon layers of convenience many years after your initial purchase.  Combine it with other ThinQ Appliances and your whole kitchen will be wired and accessible.
---
---
3. The GE Profile PFE28PBLTS Smart French Door Refrigerator - Smart Refrigerator Review
The GE Profile French Door Style Smart Refrigerator Model No PFE28PBLTS has a beautiful black stainless steel finish. 
It's got a 27.8 Cu Ft. Storage capacity.  But it's best feature is a Keurig K-Cup Brewing System built in!  Yes, you can access your favorite coffee flavors right from the convenience of your fridge!  It even has the ability to set a hot water timer so it will be ready for you whenever you desire.  How's that for smart?
Read the full Smart Refrigerator review.

---
---
4. Samsung 4 Door Flex French Door Refrigerator
OVERVIEW:  With 28 cubic feet of storage space and a huge list of impressive features, this ENERGY STAR® qualified smart refrigerator from Samsung is one of our top choices.
We love the Food Showcase feature as well as the FlexZone feature which allows you to go from a refrigerator to a freezer as your needs warrant. 
At just under $3,000 this is one Smart Refrigerator that's a truly Smart Buy.

---
---
5. LG LFXS30796D Black Stainless Door-in-Door French Door Refrigerator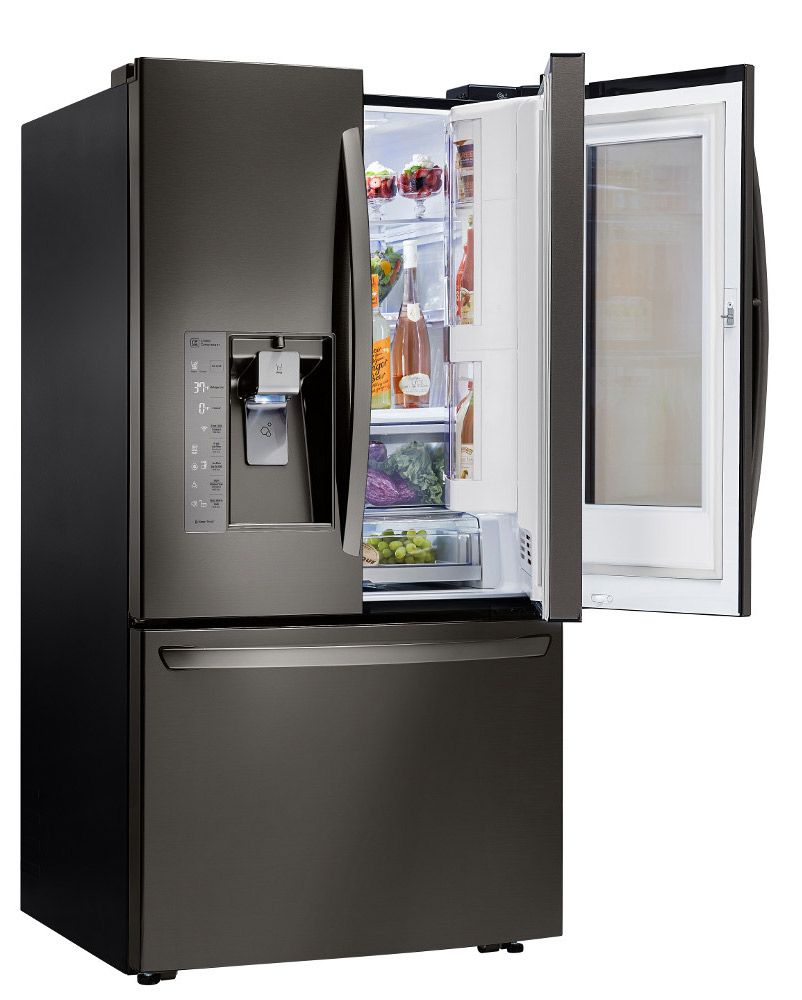 OVERVIEW:  The 30 cu ft. LG LFXS30796D Four Door French Door-in-Door Refrigerator is one of the best selling refrigerators on the market and is a top five in our Smart Refrigerator Reviews.  
With its controlled "Glide-n-Serve" drawers to the multi-air-flow system, and its swing out freezer doors, it's one of the more stylish as well.

This 4-door French Door refrigerator has a premium 13-inch tall ice- and water-dispenser and unique features like the SlimSpace Ice System. It also has a sleek black stainless steel finish making it one of our top picks.
Read the full review.

---
What to Look for in a Smart Refrigerator

Although Smart Refrigerators can be a nice luxury item, sometimes, your storage space is sacrificed in the name of technology. 
You need to take into consideration how many people are in your family and just how much storage space you might need.  Typically, a 25 cu. ft. interior is enough for a family of four.  But your needs may vary depending on how often you cook at home and what you cook at home.

Connectivity
Beyond connecting to your in-home WiFi, you'll also want to find out what the compatibility is with other Home Helper systems.  If you use Google Home versus the Amazon Echo ("Alexa"), you may want to make sure it's compatible with your particular preference.
Some, like Samsung, come with their own systems (Bixby).  Just be aware there are choices out there and your first choice may not be your best choice.

Design
A refrigerator with a giant screen may not necessarily be the best option for your highly designed kitchen space.  Some prefer more of a built-in refrigerator look rather than something that looks like it has it's own TV unit (as many Smart Refrigerators do).  So, be sure to take this into consideration when you look to purchase your Smart Refrigerator. 
Unnecessary Options
Consider whether a Smart Refrigerator is even the right choice for your family.  There are a number of cool features, but are they important enough for you to pay hundreds, sometimes thousands more. 
It's great that the refrigerator will keep track of your food inventory, but do you need a unit that screens your favorite movies on your refrigerator door? 
Just think through the options that each has to offer and whether or not it's something you need, or a feature that seems over the top.

---