Amana French Door Refrigerator Reviews
The Top Rated Amana French Door Refrigerator models
Amana French Door Refrigerators have dwindled in the past few years because Amana's parent Whirlpool seems to have branded their French Door models under the Whirlpool brand.
That said, there are still a handful of models out there.

And because Amana refrigerators are both reliable and extremely affordable, if you've been looking for a French Door Refrigerator, then the Amana refrigerator line might be just what you've been looking for.
Listed below are a few of our favorite models from Amana.  We've also included some tips on how to shop for a French Door Refrigerator, so be sure to scroll down for that.

---
Amana French Door Refrigerator


Best Reviewed Models


Amana has been steadily decreasing the number of french door refrigerator models they put out each year.

The following models we mention in no particular order are some of the highest rated refrigerators among consumers:
---
1) The Amana AFI2538AES French Door Refrigerator:

OVERALL: This stainless steel french door refrigerator is loaded with features and with 24.9 cubic feet of storage space, it tops most other competitors.

PROS:
The AFI2538AES has an exterior water and ice dispenser; which although they take up valuable interior space, they are quite handy to have.

An exterior control panel allowing you to alter the temperature of the fridge right from the door.
The Max Cool Feature allows you to cool large quantities of food very quickly.

The Temperature controlled Beverage Chiller area lets you keep your milk ice cold (just make sure you always have Oreos on hand).
Energy Star Qualified as it allows you to change the temperature inside the fridge from the exterior.
CONS: With an MSRP of about $2800.00 it's a bit pricey. But, we've been able to find it for under $2000.00, so shop carefully.


Click here for complete review and pictures
---
---
2) The Amana AFB2534FES French Door Refrigerator Freezer:

OVERALL: The Amana AFB2534FES doesn't have as many of the features as other Amana french door refrigerator models, but it does have the looks, durability and capacity that makes it one to consider.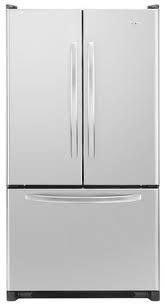 PROS:
The space is well utilized especially when you look at the freezer drawer which comes with the Quick Split easy divider which helps you access your frozen foods that much quicker.

It's extremely quiet and the interior lighting is extremely well designed as you are able to see well in even the smallest corner of the fridge.

The EasyFreez drawer that comes with the EasyClose rack drawer system makes accessing thing in your freezer so much easier.

The Stainless Steel is smooth and will blend in and highlight almost any decor.

CONS:
The gaskets on the doors seemed to be a bit loose, so be sure to check these before making your purchase.

Also, fingerprints seemed to be a bit of an issue on the stainless steel model we tested.
But no consumer reviews pointed either of these flaws out, so it may've just been our particular model.

MSRP: $2200 is what they recommend it sell for.


Click here for complete review and pictures
---
---
3) The Amana AFD2535DEQ French Door Refrigerator:

OVERALL: The Amana AFD2535DEQ French Door Refrigerator is a popular model with many consumers and for good reason. It has a great feature list and styling to match.
PROS:
The internal water dispenser is a great feature for this particular unit. It takes up almost NO space and it allows you to have cold, fresh tasting water at your finger tips.

There are mulitple half shelves that allow you to split the shelving in half to accomodate for larger items (e.g., a Thanksgiving turkey, perhaps?)

For about $300.00 more, it also comes in stainless steel.



CONS:
This model varies widely in price across the internet, so shop wisely. The retailers recommended here are usually some of the best prices available. The ice maker was a bit slow to make ice, but still effective.

MSRP: $1699 is the suggested retail price but we've found it for a great deal less. Take a look at the great prices it's selling for right now:
Click here for complete review and pictures
---
---
Amana French Door Refrigerator


What to Look For When Shopping


When you shop for a French Door Refrigerator, there are a few things you'll need to take into consideration before you make your decision. Here's the 4 things you should look at:
1. DURABILITY: Most refrigerators nowadays have a life span of approximately 10-15 years. French Door refrigerators are a bit less (at least so far).

Partly due to the fact that the door hinges wear out over time and cause more stress on the refrigerator's compressor to maintain temperature.

Regardless of this Amana refrigerators have an EXCELLENT durability rating, so you can rest assured you're going to be getting a quality product.


STYLE: The Amana French Door Refrigerators are loaded with style and will be a perfect addition to any existing kitchen decor; just be sure you take your existing decor into account before making your purchase.


PRICE: There are a lot more expensive French Door Refrigerator models available today, but since Amana stacks up well against most of them, why overspend?


SERVICE: Because Amana is American made, issues with quality refrigerator service are few and far between.

Replacement refrigerator parts are easy to get and most refrigerator repairmen have worked on an Amana refrigerator before and are extremely familiar with their working parts.
(Click here for a complete list of Amana French Door Refrigerator reviews.)
---
---