Amana ASD2522WR
The Amana ASD2522WR is a 25.1 cu. ft. Side by Side Refrigerator with External Ice/Water Dispenser

Overall: The Amana ASD2522WR is a great refrigerator for someone in need of a great deal of storage space for at least a family of 4. All of the extra bells and whistles included in this model make you feel like you've purchased a very upscale refrigerator at a really comfortable price.

Capacity: 25.1 cu. ft.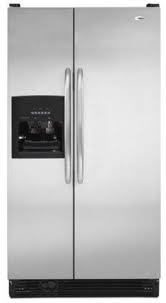 Notable Features:



Easy to Control Temperature: In order to guarantee even cooling Amana has included there Temp Assure Freshness Design along with easy to see and used controls.

Now you'll never have to guess the internal temperature of your fridge or freezer.


Cold, Filtered Water & Ice When You Want it: Amana added a PUR water filter to this model to allow for fresh water without having to carry it home from the store.

One great addition to this feature is the ability to lock the ice/water dispenser.

If you have children you can understand why keeping your kids from playing with either the ice or water could be incredibly important.


Great Storage Abilities: While 25.1 cu. ft. of storage space seems like it should be enough to know about this Amana refrigerator, there's so much more in this realm.

There are two crispers and a deli drawer within the fridge and gallon sized storage on the door.

The 5 storage bins on the door hold a great deal of food as well.


Colors:
Black, White, Silver and Stainless Steel

Efficiency: Is Energy Star rated

MSRP: While the MSRP for the Amana ASD2522WR was $1299 for the stainless steel while the other colors around $300 less, the model has been discontinued and, to our knowledge, is no longer being sold as a 'new' fridge.
But, you might still be able to find this model either used or as leftover inventory at deeply discounted prices.

---
Similar Models to Amana ASD2522WR Side by Side Refrigerator
Unless you're looking for a used fridge, we assume you would like to see reviews on the newest fridges out there. So we've done a bit of research to find you some of the best side by side refrigerators that are great deals.

Amana Refrigerators have gone through an amazing evolution over the past couple of years and have truly modernized their look and feel for the next decade.

Click on the links below to see what's out there by Amana and in other brands as well:
---