Amana Side by Side Refrigerators
Our Favorite Amana Side by Side Refrigerators
There are a few great Amana Side by Side Refrigerators that we felt compelled to tell you about.
Luckily, Amana continued developing high quality refrigerators and refrigerator freezers for decades and today stands as a leader in high quality, affordable, refrigerator products. But only a handful of those models made our cut into the top TWO.
Although Amana was acquired by Maytag in 2001, they have now been folded into Whirlpool as the Whirlpool Corporation acquired the Maytag brand in 2006.
Amana's mark of quality has remained intact as Whirlpool is certainly a brand that has its own reputation to uphold.
---
---
Amana Side by Side Refrigerators

Our 2 Favorites
There were only a few side by side refrigerators in the line to begin with which leads to why so few are being highlighted. Remember that even though there are two models listed below, each one comes in various finishes.

So, here are the top two Amana Side by Side Refrigerator models that we recommend from Amana. We recommend reading the full reviews to really get an idea about these refrigerators.
---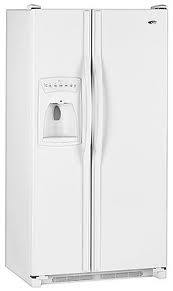 OVERVIEW:

The Amana ACD2234HRW did an excellent job keeping a constant temperature. 
It has a lot of nice features for the price range as well, but we were somewhat surprised by the lack of a few things that you would expect to see in a side by side refrigerator. 

The fact that it has two veggie crispers but no meat drawer seemed a bit odd. 
A can rack seemed to be one feature that would greatly enhance what is already a well designed interior space. 
But, those faults aside, it ran quietly and proved to be one of the better Amana models

---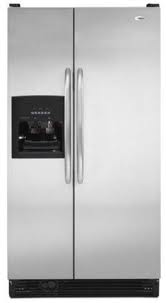 OVERVIEW:

The Amana ASD2522W was by far one of the best side by side refrigerator models we have covered in this price range. 

It has an attractive design, it holds temperature efficiently and effectively and it comes with a wealth of features that make this model a true standout in the Amana line.

Best of all it comes in black, white, silver or stainless steel -- a finish for any kitchen.

---
---
Similar Side by Side Refrigerators
In case you need a few more refrigerators to compare the two above to, here are three more side by side refrigerators from various other brands, not just Amana, that are worth taking a look at:
---
What Do You Think of Your Amana Refrigerator?
If you want to see Amana Refrigerator Reviews from others then scroll down to the bottom of the page but we need YOUR opinions and experiences, too! This way you can help and be helped.

Here's a few things to tell us:

1. What's the model number and style (e.g. french door, side by side, etc.) of your refrigerator?
2. How long have you had it?
3. Do you love or hate it and why?
4. Was it reliable? Would you recommend it?
5. Anything else YOU THINK we should know!

Tell us your whole story! We hear from people every day who want to know what you have to say. Your review could very well help someone else make the right decision!!
What Others Have Said About Their Amana Refrigerators...
Wondering if your Amana Refrigerator is part of a recall?
Click here to find out!
Click on the links below to see reviews written by other Amana refrigerator owners...
Seriously Disappointed by Amana!!
Click to see a complete list of Amana Recalls I am disappointed in my Amana Side by Side fridge - Model A2D2575BRW01 Serial HR51407771. …