Best GE Refrigerators
Here's a List of Our Favorite General Electric Refrigerators
The Best GE Refrigerators were a bit harder to determine than you might think. Mainly because there were so many high quality General Electric Refrigerators to choose from. But we've managed to narrow down the choices to a select few.
The GE Refrigerator line is known for its high quality product, so if you're looking to find the Best GE Refrigerators, you have to know what it is that you're looking for.

After all, a five-star refrigerator review does you no good if it won't fit in your kitchen or service your needs. So, here are some of the things you want to take into consideration when shopping for the best GE Refrigerators.
---
Best GE Refrigerator in Each Style
The best GE Refrigerators we list below are those that not only received the highest scores in our own internal tests, but also received the most amount of praise from other consumers like you.


---
Best GE Refrigerators: Bottom Freezer

GE Profile PDSS5NBWLSS 25.3 Cu. Ft. Stainless Bottom-Freezer Refrigerator:
For about $1,900.00 you can get one of the best GE Bottom Freezer refrigerators on the market. We found the GE PDSS5NBWL to be one of the highest scoring Bottom Mount refrigerators on the market across all brands.
The Stainless Steel Contoured Doors and Sculptured Handles with Top and Bottom Bevels offer up a dramatic look and a touch of personal style.


Optional Automatic Icemaker that we highly recommend you get.


Two humidity-controlled drawers and 1 full-length drawer came in quite handy.


The BrightSpace™ Interior with GE Reveal™ Lighting cast a natural-looking glow throughout the refrigerator including the freezer drawer.


The Multi-Level Slide 'n Store™ Basket System which has three full-extension baskets for tremendous storage flexibility We found this very convenient and we really liked it alot.



**Be sure to request the Condiment Bin and Beverage Rack as some dealers think this is optional.


Take a look at some of the current sales prices on this fridge:
To See Other Top Rated GE Bottom Freezer Refrigerators
---
Best GE Refrigerators:  French Door




The GE PFSF5NJWBB GE Profile 25.1 Cu. Ft. French Door Bottom-Freezer:
This particular model was one of the best GE refrigerators among the consumers we surveyed.

The things we heard the most often were:


High-Gloss, Contoured Doors with Sculptured Handles and Top and Bottom Bevels. The bevels add a dramatic look and touch of personal style to any kitchen.


The External Water Dispenser with TurboCool™ Setting provides chilled, filtered water any time. It also displays the actual internal temperature of the refrigerator!


The Freshness Center™ utilizes two humidity-controlled drawers and 1 full-length drawer for large storage which is extremely convenient.


Look for the three fold basket organization system in the freezer which helps keeps all its contents organized and within easy reach.


Lastly, the BrightSpace™ Interior with GE Reveal™ Lighting manages to cast a natural-looking glow throughout the refrigerator; even in the freezer!


Click here to See Other Top Rated GE French Door Refrigerators
---
Best GE Refrigerators: Side by Side

The GE Profile PSF26RGWWW 25.4 cu ft Side by Side:
The GE PSF26RGWWW was recently rated a Consumer Reports Best Buy. This GE Profile Side by Side Refrigerator has a 25.4 cu. ft. interior which was amply divided.

The interior space is well designed with many unique features:


It has a High-Gloss Finish with Hidden Hinge.


The Center and Top Bevel offers a smooth surface with contoured doors and a concealed hinge.


The GE ClimateKeeper2™ System, with its unique dual-evaporator system did a great job at protecting the ice from odor transfer.


We loved the Color LCD Controls with Touch Screen. This made controlling all the functions of the refrigerator extremely easy.


The Integrated Dispenser with LED Lighting provided convenient and ample illumination to the dispenser.


The PreciseFill & UltraFlow100 pours water in accurate increments or up to 100 ounces per minute.


Finally, the QuickFreeze Setting functioned perfectly and provided faster, fresher freezing. This will help to maintain the flavor and quality of your meats. The Electronic Beverage Center managed to keep beverages icy cold and easily accessible.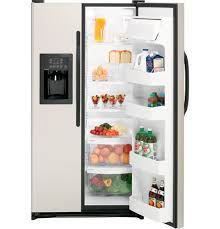 To See Other Top Rated GE Side by Side Refrigerators
---
Best GE Refrigerators: Top Freezer

The GE GTS18SHS 17.9 cu. ft. Top Freezer:
With a Total Capacity of only 17.9 (cubic feet), it may be one of the smaller capacities in this line, but it has a well designed interior that makes it feel much bigger than it actually is.
The Stainless Steel on this model conveys a look of the utmost polish and sophistication.


It's Internal Water Dispenser comes with the GE SmartWater™ Filtration system which delivers chilled fresh-tasting water through an internal water dispenser.


The Factory-Installed Icemaker is quite efficient.


We loved the Illuminated Upfront Slimline Temperature Controls which not only offers maximum style, but quite a bit of convenience as well.


The Adjustable Spill Proof Glass Shelves are also a great feature as they help to contain spills.
Overall, at
under $1,000.00
this is one great buy for the money.
To See Other Top Rated GE Top Freezer Refrigerators
---
Three Things to Consider
Take a look at the 3 different types of features you'll want to think about when picking out which of our Best GE Refrigerators is right for you:


Capacity: Consider how large is your family currently and more importantly, where it's heading. Will your situation change in the next year? Two years? Five? Most refrigerators last approximately 10 years, so you'll want to consider where you'll be during that time to ensure you make the right purchase.


Styling: Consider what you're looking for with regard how you want the fridge to look once it's in your kitchen. If you're looking for functional more than appearance, then you can greatly narrow down your options as well as price range. Most fridges come in black, bisque, white, stainless steel or satina (a stainless alternative). So, consider which color might go best in your kitchen before making your purchase.


Available Space: Look at where your current fridge sits and measure what available space you have before making your purchase. Take into account the swing of the doors (should it swing to the right or to the left?) How will it best fit into your existing kitchen. Do you want a "built in" look? If so, you may want to consider the GE Monogram line, or look for counter depth refrigerators.
---
Enter your search terms Submit search form Web www.refrigeratorpro.com