Samsung Appliances
So Much More Than Just Samsung Refrigerators
Sure you've heard about Samsung refrigerators but do Samsung appliances cover all of your needs as well? If you are looking for nicer, a bit upscale, but not built in appliances, then Samsung is a brand worth looking at.
Samsung makes almost every appliance you might need, which really isn't all that surprising considering how large of a company they are and all of the other non-home products they make (e.g. phones, cameras, computers, printers, etc.)
---
Samsung Appliances

Which One Are Right For You
We've gotten a lot of emails from people looking for a full set of appliances from the same brand. While refrigerators are what we specialize in (Click here to learn more about Samsung Refrigerators), here is information on all of the Samsung appliances you might be looking for:
---
Samsung Appliances
Refrigerators

While there are several models to choose from, at least in the USA, Samsung only has 3 different styles of refrigerators:
---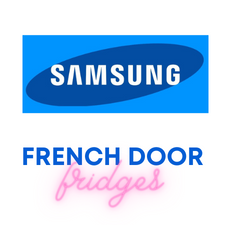 Samsung French Door Refrigerators (comes in 3 and 4 doors):
Currently there are 19 models ranging from $2099 to $3499 (though this one has a tablet in the door).
Click here for the Best Samsung French Door Refrigerators
---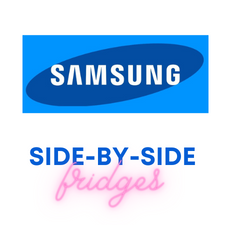 Samsung Side by Side Refrigerators:
As this style is not as popular as the one above the number of models follows to only 7 ranging from $1499 to $2499.
Click here for the Best Samsung Side by Side Refrigerators
---
Samsung Bottom Freezer Refrigerators: Following the exact same correlation of a less popular style, Samsung only currently has 4 models of bottom freezer refrigerators that range from $1199 to $1499.
Click here for the Best Samsung Bottom Freezer Refrigerators
---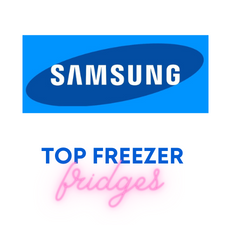 Samsung Top Freezer Refrigerators:
If you are looking for a Samsung Top Freezer Refrigerator you will not find one in the USA though in Europe and Asia they are quite popular ***The colors available are Stainless Steel, Stainless Platinum (less fingerprinting and magnetic than SS), Black and White.
---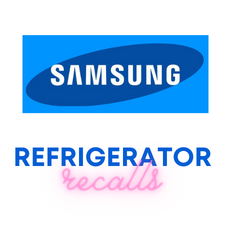 Samsung Refrigerator Recalls:
If you're someone who likes to make sure they really understand everything about a brand before choosing it, then you'll also want to take a look at the refrigerator recalls Samsung has had over the last 20 years.
Click on the link below to see the issues they've had but also remember that once there is a problem with a product then most companies learn and grow from these issues.
20 Years of Samsung Refrigerator Recalls
---
Samsung Appliances
Washers and Dryers

Samsung does its best to make the process of washing your clothes easy, effective and quiet. They are currently toting three big features in this category:
Power Foam: The idea behind this is, as I'm sure we've all experienced, larger loads don't tend to be 100% clean. This feature makes sure your whole load, even huge ones, will be perfectly clean.


Quieter Wash: While this one seems pretty obvious, Samsung states that they've reduced the normal vibrations down by 40%. Who doesn't want a quiet washer and dryer?!?!


Super Capacity: If you really need a huge washer, they have many larger capacity ones. The one that caught our eye washes almost 3 dozen large towels at one time. (Our bigger question is who needs to wash over 30 towels at once and why?)
Samsung Washers: Of the current 15 washers being made by Samsung, only 2 of them are top loading, the remaining 13 are front loading. The sizes range from 3.5 cu. ft. to 4.7 cu. ft.

You'll also have a choice of gas or electric versions and range from $699 to $1499 in cost.

***Best of all they come in Red, Blue, Gray, Stainless Platinum and White. How fun does red or blue sound? Anything to make doing laundry more fun has got to be worth something.


Samsung Dryers: Of the 12 different models they have which range from 7.3 to 7.5 cu. ft. in size and $699 to $1399 in both Gas and Electric; we really liked the Steam Dryer. The really cool thing about it is it uses steam to help you not have to press your clothes as much.

Let's be honest, anything to make it so you have to iron less is worth its weight in gold.

***They also come in the same color versions as the washing machines so that you can have a matching set.

---
Samsung Microwaves:

While the variance of size in these models isn't all that big (1.6-1.8 cu. ft.), the 1000W to 1600W of power can actually make a difference. The cost of these microwaves directly correlates to the power differences ($199 to $599).
Beyond power, some actually have the ability to grill and are a convection oven as well as a microwave.
FYI: If you are looking for a countertop microwave you won't find one here—all 8 models are made for over the range cooking.
***As for colors, they primarily come in Black, Silver/Stainless and White.
---
Samsung Dishwashers:

Not a whole lot of choices here with only 3 models to choose from and all 3 are 24" in size. The prices range from $649 to $899 and the differences really have to do with which bells and whistles you prefer.

***The colors they come in are stainless, black and white.
Click here for Dishwasher Reviews
---
Samsung Ranges:

Before looking at models you should first figure out what you want. Here are a few things to consider:
Convection or Induction: If you are only looking for an induction range (coil heated) Samsung appliances only make one model like this, all of the other 10 are what's called Induction Hybrids (both Induction and Convection).

Electric or Gas: Only two of their models are gas, the other 9 are electric.

Freestanding or Built In: This is easy if you are looking for a built in, Samsung doesn't make one.
In doing our research we found one really new unique range from Samsung; it's called their Freestanding Flex Duo Oven with Radiant Electric Range. It allows your single oven to cook at two different temperatures at the same time. A really great option for when you are cooking multiple items at once like on the holidays.
***As for colors, 9 of them only come in Stainless steel while the other 2 come in Black, White and Stainless.
---
Now that you have your Samsung appliances breakdown, we hope that you feel a bit more comfortable with the idea of what you might need/want and if Samsung can take care of those needs.