Samsung Family Hub Refrigerator

A 27.9 cu. ft. 4-Door Stainless Steel Refrigerator with FlexZone™ and Food Showcase

™ Features!
Model No:  RF22K9581S

OVERALL:  This new Samsung Family Hub Refrigerator is one of the most innovative refrigerators we have ever reviewed.  When you ask yourself, "hey, what refrigerator would the Jetsons buy?"  The Samsung Family Hub Refrigerator would be the one.

---
Not only is this a Four Door refrigerator with Samsung's exclusive FlexZone and FoodShowcase feature set (more on these features below), this refrigerator actually has the ability to communicate!  Are you kidding me???
If you're unfamiliar with a "family hub", it's essentially turns your refrigerator from an icebox to a Smart Appliance. 
Using Samsung's own Alexa type technology ("Bixby"), you're able to give your refrigerator commands like "play music" or "show me the contents of my refrigerator."
There are a ton of features to go over and we think you'll quickly see why we have named this refrigerator one of our Top 10 Refrigerators for 2019 . 

Notable Features of the Samsung Family Hub Refrigerator:

As mentioned above, this Samsung Family Hub Refrigerator is loaded with features, such as:


Family Hub:  The Family Hub is more than just a way to communicate with your family via virtual post-it notes.

--You can stream your favorite Spotify tunes.

--You can "mirror" your screen

from any other smart

Samsung device (e.g., your phone or your TV) allowing you never to miss a thing while you're stuck in the kitchen.

--With 3-internal cameras

, you can see inside your refrigerator at any time to see what you need.  (True, this may seem like overkill, but how many times have you gotten back from the store only to realize you forgot to get more milk!)
FlexZone Technology:  Boost your refrigerator OR your freezer space with just the flip of a switch. 

The FlexZone Technology allows you to turn your freezer space into a refrigerator space in this Samsung Family Hub Refrigerator withing seconds.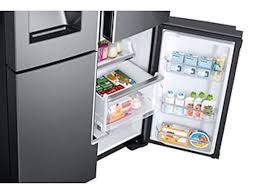 Food Showcase:  An outer door provides easy and quick access to some of your more commonly used items.

It's not just an energy saver, it's the perfect feature for a family on the go.

(Reminder, that the picture below is NOT of the Samsung Family Hub Refrigerator -- it's just for reference -- showing off the Food Showcase feature.)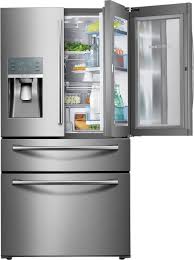 Triple Cooling Feature:  The Samsung Family Hub Refrigerator also has Samsung's patented triple cooling feature which helps to keep your food fresher for longer.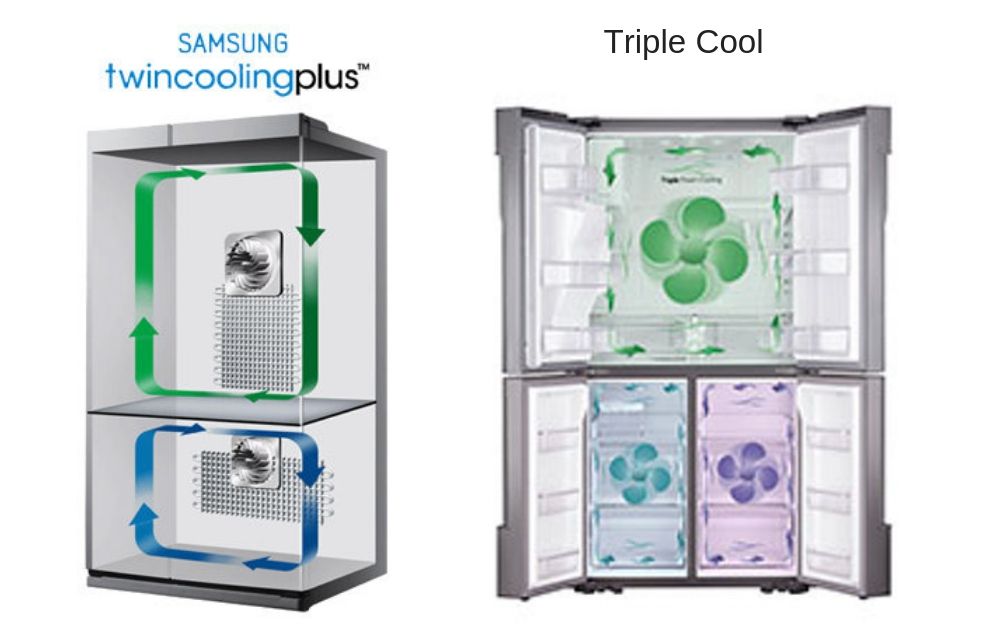 Adjustable Shelves:  Store taller items simply by flipping up the top portion of the shelf.  These may be slide-in or flip-up depending on the model you choose.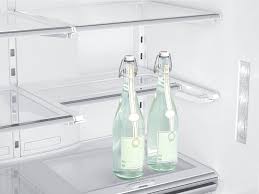 Fingerprint Resistant Doors:  One of the more annoying things about Stainless Steel (and even Black Finishes like this one) is that they can never seem to stay clean.

Typically, just one brush against the door with your fingers and you have oily streaks that never seem to go away.

Samsung has a finish on the exterior of the Samsung Family Hub Refrigerator that minimizes this issue.


Other Relevant Information

CAPACITY:   27.9 Cubic Foot Interior


COLORS:  Black Stainless Steel and Stainless Steel


MSRP:  $4,499.00 (But closer to $3,399.00 online.)

---
---