Why Do Refrigerators
Have WiFi?

What does it do?

If you're asking yourself, "Why do refrigerators have WiFi?" Then you'll be happy to know you aren't alone in that thought.

When we first heard that refrigerators had WiFi , it seemed utterly absurd, a waste of money and technology.
What could you possibly need WiFi for in a refrigerator?!?!
But as our curiosity got the best of us, we started looking into it more deeply and realized how much functionality WiFi adds to a refrigerator.

Believe it or not, connected refrigerators date back to about 2002.
At first, they were more as a novelty or gimmick than something the owner truly needed - but over time, these fridges became smarter.
Before we knew it, they had features like:
Remote Cooling Management
(adjusting your fridge's temperature from afar)


Grocery Ordering Integration
(yes, they do that!)


Food Expiration Trackers
(no more spoiled milk!)


And much more.

Today's smart fridges are now so much more than just a convenient way to store our food.

Having WiFi enabled refrigerator makes life so much easier!

Don't believe us? Read this article, and we think you might have a new opinion on why refrigerators have wifi by the end.
---
Why Do Refrigerators Have WiFi:
Smart Features for Convenience

If you think a refrigerator's only purpose is to keep food from spoiling, then you're about to be blown away! There are so many new things your refrigerator can do with its newfound connectivity - probably more than you ever thought possible.
Take a look at some of the features that having a refrigerator with WiFi can do:
---
1. Remote Control

We all know how hard it can be to manage the family on top of all our other responsibilities. That's why having a fridge with WiFi and remote control features would make life so much easier!
With a smart refrigerator, you can easily monitor what food is in the fridge with just a few clicks. Plus, you can set up alerts for when certain items are running low or about to spoil – no more last-minute grocery runs after work!

It doesn't just stop at groceries, either.
With the help of the WiFi connection and internet access, you'll have complete control over your fridge from virtually anywhere.

Having a WiFi-enabled refrigerator also means I can save time and energy by scheduling temperature settings in advance. That way, you don't have to worry about turning up or down the cold levels when needed – it's already all taken care of.
No more wondering if your groceries stay fresh, even when you're not around. Just check the app to see what the temperature is and what it's been.
The remote control feature is an incredibly convenient to stay organized and efficient!


---
2. Recipe Ideas: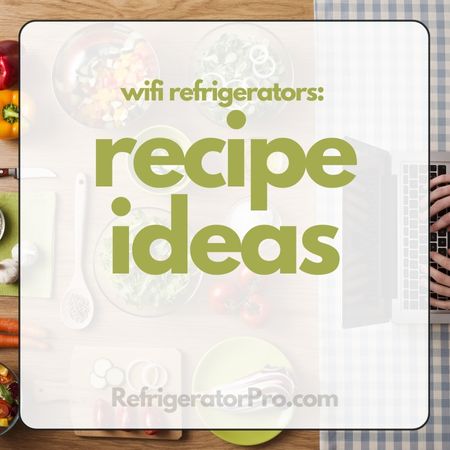 Having a fridge with WiFi connectivity allows you to access recipes online and use the fridge's recipe idea features to help come up with creative meal ideas for one or many.
With just a few clicks, it's easy to find quick and delicious meals that everyone will love – no more boring same-old dinners!

Another fantastic thing that refrigerators with WiFi can help with is searching for recipes that fit the particular ingredients you have on hand.

This way, you know that whatever recipe you choose will be easy to prepare since all ingredients are already in your fridge — no more last-minute trips to the grocery store! Just a few taps and swipes and you can find a delicious meal that you have all the ingredients for!

This feature is an absolute game-changer.
It makes cooking mealtime so much easier by having access to many creative and delicious recipes while also helping you do this with the items are in your fridge.
The convenience this feature offers is truly remarkable!
---
3. Shopping List:
If you're like us, constantly looking for ways to make life more convenient, then the shopping list feature is one you'll love. This one feature will answer your question—why do refrigerators have WiFi?

The shopping list feature is beneficial in keeping one person or an entire family organized. All you need to do is connect your smartphone to the refrigerator, and, poof, you (and everyone else you permit to) have access to the shopping list feature on your phone.

Now anytime you add or remove something from the grocery list, it's also changed on your phone in real-time.
Never again will you have to worry about missing any items when shopping.
The best part is that it gives everyone in your house access to the shopping list to add items or have the list in their back pocket should you need them to pick up a few things on their way home.

The best part of having an up-to-date grocery list is that it makes meal planning and food prep much smoother.

No more having to run out for one more thing to make dinner!

---
4. Receive Notifications: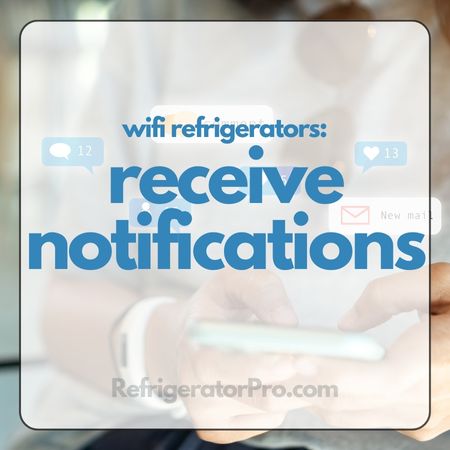 A fridge with WiFi allows you to receive notifications on your phone when certain items are running low or out.
This feature is so helpful in doing so many thing such as it helps you:
Remain stocked up on essentials like milk, cheese, eggs, and fruits by letting you know you're running low


Reminding you about expiration dates so that you don't start making dinner and realize one of the ingredients you need is no longer good.


Check to see if there's enough food for the kids' lunches or snacks from across the house to the grocery store parking lot.


Plus, the fridge can notify you when the door is left open instead of coming home to a frosted over freezer or melted ice cream.


It can also let you know when to replace the water filter and which filter you need.

---
5. Connectivity: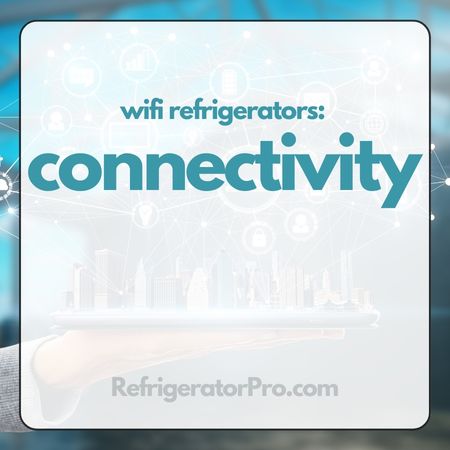 While, in the beginning, the idea of a refrigerator having connectivity sounded a bit over the top, as you can see, all of the features above wouldn't be possible without it.

Plus, it allows you to look at what you've got in your fridge and what's going on inside from any location and check on the temperature levels from the next room or halfway around the globe.

The idea behind why refrigerators have WiFi is simple: making grocery shopping easier than ever before.

With WiFi enabled fridges, you can take advantage of smart features that help you keep track of your fridge inventory and conserve energy using temperature control settings.
Additionally, accessing recipes, personalized meal plans, and grocery lists from the Family Hub app helps users save time and money while ensuring healthy eating.
Having a refrigerator with WiFi is an incredibly convenient feature that makes everything from managing groceries to cooking delicious meals easier than ever!

---
---
Why Do Refrigerators Have WiFi?:
Which Brands Have WiFi?

---
We know that often you might need more information to solve you problem. Here are a few more pages that might help:

Why do refrigerators make noise?
How to shop for a refrigerator

---