Amana ABB2224WES Bottom Freezer Refrigerator
21.9 cu. ft. Bottom Freezer – Stainless Steel Finish

Overall: The Amana ABB2224WES bottom freezer refrigerator is one of the few refrigerators in this class that can adequately service the typical family of four.
At first glance, the fridge doesn't seem like it can hold anywhere near as much as it does. The doors are very well designed with gallon door storage.
This allows you to store many of your larger items in the door, saving the shelf space for smaller, sometimes harder to find items.
(Just a quick note before reading on, this model has been discontinued but if you would like to see the current Amana Bottom Freezer models we recommend, then just click here.)


Capacity: 21.9 cu. ft.

Notable Features: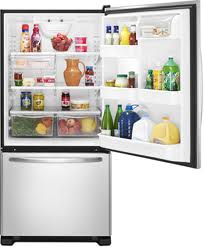 Energy Efficient: This Amana refrigerator is Energy Star rated to help you save on your energy bills and to be a bit more earth conscious.




Pull Out Freezer Drawer: All you have to do is pull out the drawer and you'll be able to get out what you need. (Older models had to open a door and then pull out a drawer. While it took an extra step, sometimes it was easier to see where you put your food.)




Great Storage and Organizational Features: This fridge is unique in that there seems to be space for just about anything.

From gallon door storage, to specialized produce crispers, a deli drawer for meats and cheeses as well as a dairy center in the door. Typically, refrigerators of this size and in this price range simply don't have these options.

Colors: Black, White, Universal Silver and Stainless Steel (the silver and stainless steel have black sides and back)

Efficiency: We are happy to say that this Refrigerator IS Energy Star rated.

MSRP: It was originally $1599 for the stainless steel model and a few hundred less for the other finishes. Before it was discontinued we were able to find it for 20-25% off of the MSRP.

If you feel this fridge is still the perfect fit for you, take a look at the current bottom freezer models from Amana (they truly never really end up being that much different from year to year except trying to improve on what they've done in the past) or see if you can find a used version.

*Tip: Just be aware that refrigerators being made today aren't made like they used to. The life expectancy for a typical fridge is 7-10 years so if you are looking at one that is 5 years old, you'll be lucky to get another 2-5 out of it. You'll want to take that into consideration when bargaining down the cost.


---

Similar Refrigerator Models to the Amana ABB2224WES


This model is a great one to consider (especially because Amana called it their "best" bottom freezer) but just in case you are looking for a newer model we've included more bottom freezer reviews that are worth taking a look at.

---

Replacement Parts for Amana Bottom Freezer Refrigerators


Of course things break down over time with refrigerators (and seemingly faster than ever before!) though quite often the fixes are easy.

If you'd prefer to try and fix your Amana ABB2224WES refrigerator instead of buying a new one, we suggest you take a look at Amana's Part Center to see if they have what you need.

If they don't, then don't give up all hope. Reach out to them to see if they have any suggestions on where else you can look to find it.


---