Whirlpool GD5NVAXSA Side by Side Refrigerator Review
Whirlpool Gold Series GD5NVAXSA 25.6 cu. ft. Side-by-Side Refrigerator
| | |
| --- | --- |
| Durability | |
| Style | |
| Cleaning | |
| Functionality | |
| Overall Rating | .75 |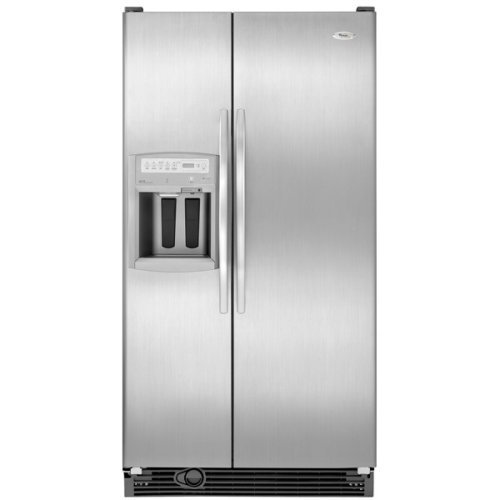 OVERVIEW:  

The Whirlpool GD5NVAXSA is part of the Whirlpool Gold Refrigerator line.  As far as quality goes, the GD5NVAXSA is at the top. It's a bit pricier than similar models in the Whirlpool line, but we've found that most of the refrigerators in the Whirlpool Gold line are worth the extra money.

STYLE:  

This Whirlpool side by side refrigerator is loaded with looks.  It's definitely one of the sleekest overall of all the Whirlpool side by side models.

CAPACITY:  

It has a 25.6 cubic foot interior which was more than enough room for most four and even five person families.  The space is well configured and ample.

NOTABLE FEATURES:  

We loved a number of the features on this fridge such as the Fast Fill water filtration system which allows you to fill large pitchers rather quickly and the in-door Air Cooling system.

COLORS:  

This unit comes in Black on Black, White on White, Satina (Stainless look), Biscuit on Biscuit and Stainless steel (which was the model we tested).  The stainless (like most stainless) tended to be suceptible to finerprints, so it often looked dirty.  The Black on Black might be perfect if you have small children who leave their fingerprints everywhere.

EFFICIENCY:  

It's Energy Star qualified. Which means that you'll find savings in buying this refrigerator both on your electric bills as well as entitling you to an Energy Star Rebate.

DIMENSIONS:  

Its dimensions are: DEPTH – 33 3/4in, WIDTH – 35 3/4in, HEIGHT 69 3/4in.
MSRP: The price range for this Whirlpool refrigerator was $1599.00-$1899.00 depending on the color finish. Though this model has been

discontinued

. Click here to see more Whirlpool Side by Side Refrigerator Reviews.
---
Side by Side Refrigerators Similar to the Whirlpool GD5NVAXSA
Here are three other models that are worth considering, especially due to the fact that the one reviewed here is no longer being manufactured.
---