Amana ACD2238HTS Side by Side Refrigerator Review
21.6 cu. ft. Side-By-Side Counter Depth Refrigerator - Stainless Steel Finish
Overall: The Amana ACD2238HTS Side by Side Refrigerator, with 21.6 cu. ft. of storage space, and is popular with most consumers.
We definitely had a lot to love about this particular Amana side by side refrigerator as well.
You're not going to be able to get much more than this if you're looking for a stainless steel fridge in this price range.

PROS: There were definitely a few things really thought were special about this fridge: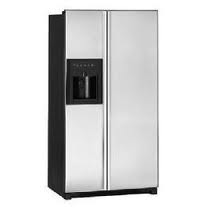 We loved the 5-button electronic FrontFill™ dispenser which easily fills tall containers with filtered water, ice - or both at the same time.
The Child Lock prevents kids from playing with water dispenser which comes in handy if you have young children (or annoying husbands).
The Auto Night Light means no icy surprises in the middle of th enight.
Unlike similar models, this unit has a Filter Status Indicator which tells you when it's time for a change. Seems like it should be standard, but you'd be surprised how many refrigerator models don't add this handy feature.
We were also big fans of the Temperature-controlled Dual Drawer which keeps deli meats and cheeses cold and fresh.  It also helped to keep the cheese and meat odors away from other foods in the fridge.

CONS: There's not a lot to complain about on this particular fridge. We did notice however that the crushed ice feature on the icemaker was a bit slow to deliver.

Additionally, it would be nice if the stainless steel panels wrapped around the sides instead of using black. Either way it's still an attractive fridge.

One consumer complained that the temperature setting is a bit sensitive and that if items are placed too closely to the fridge's air flow system, they can freeze. 
MSRP: $2,400.00 was the recommended sales price but this model has been discontinued. Take a look at a few of the current models like this below.
---
Similar Models to the Amana ACD2238HTS Side by Side Refrigerator
Unless you are looking for a way to repair your Amana ACD2238HTS, we'd bet you're looking for a new refrigerator but don't fret. We've got it covered for you. We are constantly updating our reviews for model that are currently available. Just take a look at the links listed below and click on the one that best suits what you are looking for
---