Whirlpool ET1FTEXSQ Top Freezer Refrigerator
| | |
| --- | --- |
| Durability | |
| Style | |
| Cleaning | |
| Functionality | .75 |
| Overall Rating | |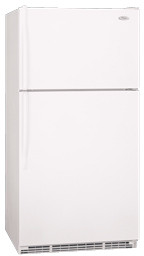 OVERVIEW: The Whirlpool ET1FTEXSQ refrigerator is a good quality, well performing, quiet running Whirlpool refrigerator.  
It has excellent energy efficiency and has quite a bit of usable capacity.  

We didn't like or understand the lack of a freezer light -- this was the reason we gave lower scores for clean up as well as functionality.

The ice maker was a nice feature to have in a top freezer refrigerator, but it didn't perform well.  It was slow to make ice and the quality of ice was mediocre at best.
Still, for the price it's a high quality  fridge that will provide years of uninterrupted service.


STYLE:  There's not a whole lot of stying going on here.  It's your basic top freezer refrigerator.  If style isn't important but energy efficiency is, this may be one to consider.

CAPACITY: This Whirlpool top-freezer has 21 cu. ft. of storage space.  It felt surprisingly spacious as the interior was very well designed and has just about 17.4 cu. ft. of "usable space."

NOTABLE FEATURES:  
This unit came with an automatic ice maker which as mentioned above performed slowly at best, with below average tasting ice.  (Even with the water filter installed).  

The spillproof shelves proved rather convenient as did the half shelves and gallon door storage.
COLORS:  We found an old Whirlpool catalogue that offers this model in bisque (Whirlpool ET1FTEXST) and in black (no model number found), but we could only find a white model both on and offline.  So, if you find this unit in another color, let us know where you found it!

EFFICIENCY: It's ENERGY STAR Qualified and runs very efficiently. It also allows you to apply for an Energy Star Rebate

DIMENSIONS: Its dimensions are: DEPTH – 30 in., WIDTH – 33 in., HEIGHT 67 in.
MSRP: The price of this Whirlpool refrigerator was $1050.00 but this Whirlpool refrigerator has been discontinued. Click here to see more Whirlpool Top Freezer Refrigerator Reviews
---
Other Top Freezer Models
Here are a few more top freezer refrigerators that might take care of your needs, especially due to the fact that this Whirlpool model has been discontinued.
---