Whirlpool Top Freezer Refrigerator Reviews
Whirlpool Refrigerator Reviews of the Top 3 Top Freezer Refrigerators
There are many highly rated Whirlpool Top Freezer Refrigerators available, but there are a handful of models that rose to the top.
(Scroll down to see the Whirlpool refrigerator reviews)
When shopping for a Top Freezer Mounted Refrigerator, you want to know certain things such as:
How efficient is it?

What size do I need?

What color best matches your kitchen?

These are all very important questions to ask but you also want to take into consideration the following:



Durability: After all, you want to make sure the product will last as long as possible.

Style: You'd be surprised how far some of the Whirlpool Top Freezer models have come in their styling. As they say, "this ain't your daddy's fridge!"

Price: The nice thing about most Top Freezer Refrigerators is the fact that they are reasonably affordable. The Whirlpool Top Freezer Refrigerators are some of the most affordable and reliable on the market today.

There are a lot of pluses to purchasing a Whirlpool appliance.
The Service: If necessary, it is often easy and inexpensive. In fact, according to some consumers, that since Whirlpool bought the Maytag brand, their service has dramatically improved.




Replacement Parts: They are usually easy to come by and most repairmen are quite familiar with the Whirlpool Refrigerator line. No searching the globe for someone who knows what they're doing.

Also, you may want to take a look at the Whirlpool Gold Top Freezer models on the market. The choice is much slimmer but they tend to have a great deal more in features than the Whirlpool top freezer fridges.
Whirlpool Gold Top Freezer Refrigerator Reviews


Click here
---
3 Best Reviewed Whirlpool Top Freezer Refrigerator Models
There are a lot of great performing Whirlpool Top Freezer Refrigerator models, but the three mentioned below fall into a class above the rest. Read each one to see if one fits exactly what you are looking for
---
1) The Whirlpool W1TXEMMWS ADA Compliant Top Freezer Refrigerator

Overall: With a Total Capacity of only 21.0 cu. ft., it is one of the larger Top Freezer refrigerators in the Whirlpool line. It's well designed interior makes it feel even bigger than it actually is.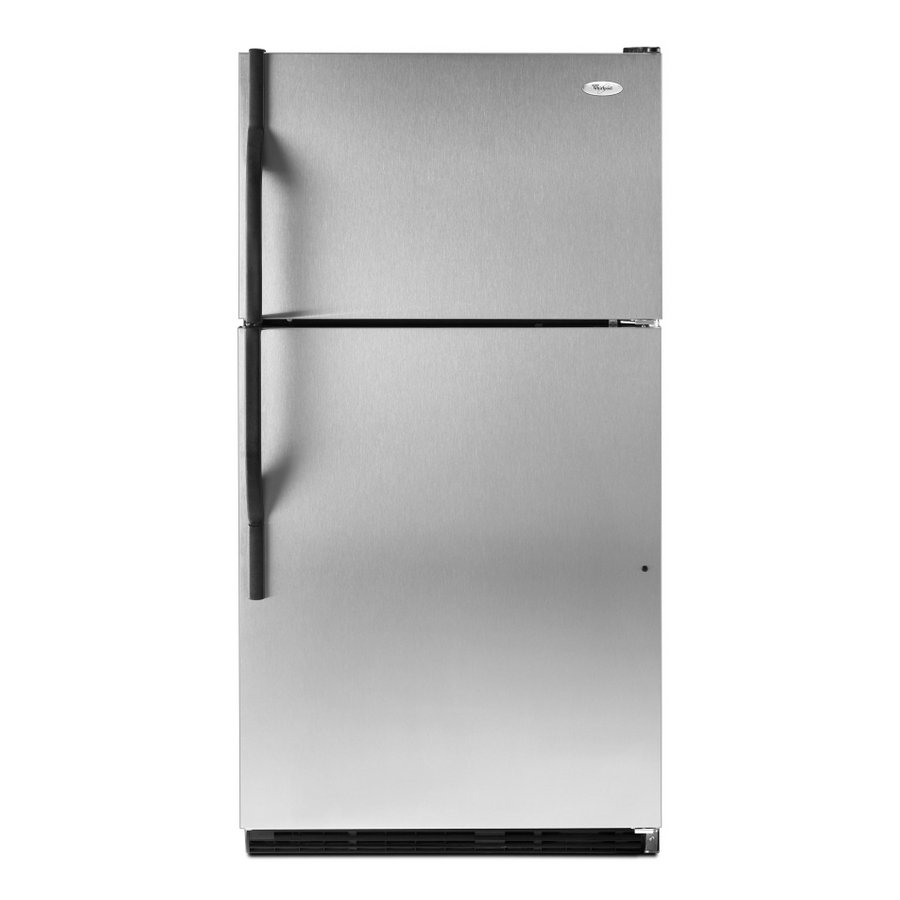 Pros: The W1TXEMMWS is one of our favorites, because you get a lot for your money.
It has a 21.0 total cubic foot interior, and we found there was plenty of storage space in both the refrigerator and freezer.

Beautiful styling that adds a great deal to any kitchen regardless of it's being a top freezer refrigerator.

It comes in Black, White, Biscuit and Stainless Steel.

It's Energy Star Qualified. This rating will help save you money every month on your electric bill and entitle you to an Energy Star Rebate just for buying it.

This refrigerator comes with an ice maker that was installed during the fabrication so that it should work perfect.

Cons: While we surveyed this model from many different consumers the only thing we could find was that the wheels didn't lock in place which could be a problem in areas with earthquakes. (If you own or have owned this model and have something you would like us to add, please let us know.)

MSRP: $1099.00 is the price for the Stainless Steel model but the other finishes tend to be less. We were surprised at how much less we found this fridge for. See what we mean below:
Take me to Energy Star Refrigerator Reviews
---
2) The Whirlpool W9RXXMFWS Resource Saver ADA Compliant Top Freezer Refrigerator

Overall: You really can't go wrong with this well built Whirlpool Top Freezer Refrigerator. If you don't need a stainless finish it comes in comfortably under $1000.00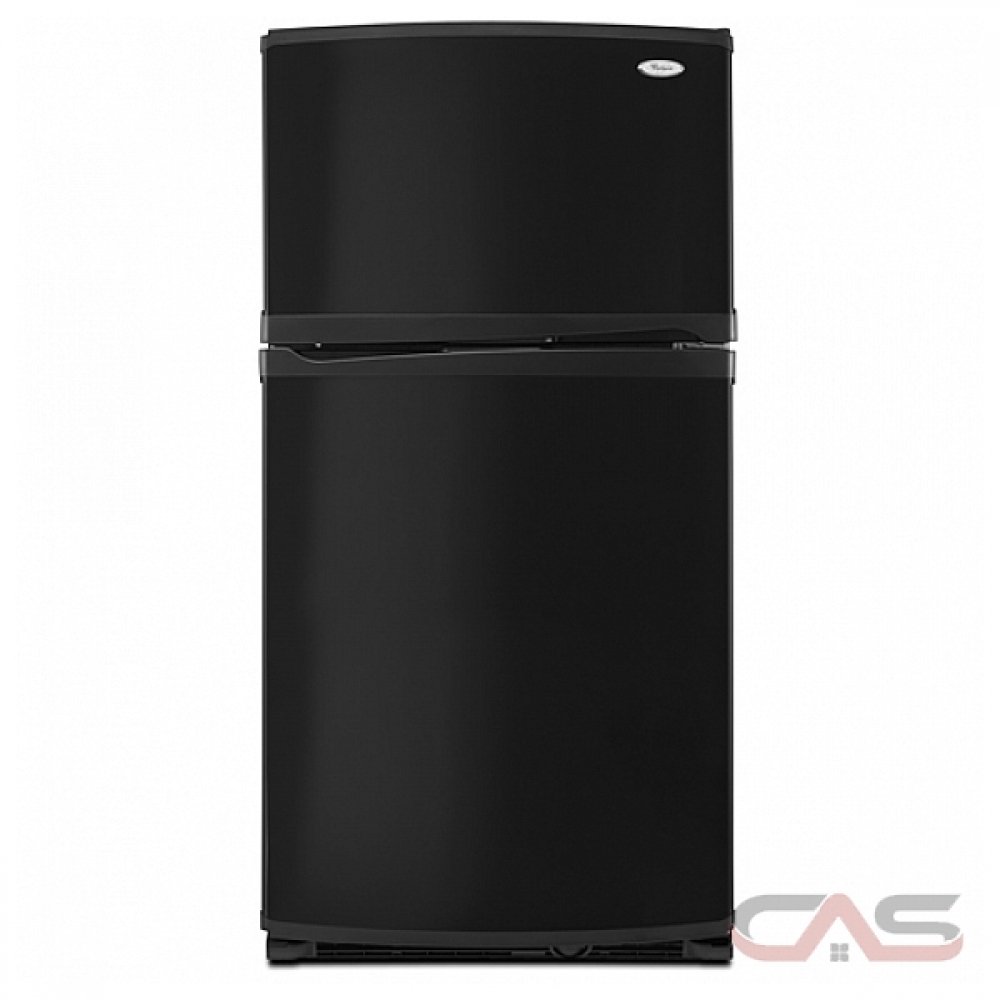 Pros:
An ample 18.9 interior capacity with well designed interior features that makes it feel larger than it is.
We found it to be an extra energy efficient refrigerator as it is also part of the Resource Saver Line of Whirlpool Refrigerators. This means that this top freezer refrigerator is more than a third more efficient than other energy efficient refrigerators.
By being ADA compliant it also has had many features changed to fit the needs of most disabled persons.
This model comes in White on White, Black and Stainless Steel
This model is Energy Star Qualified. This refrigerator is also a great one for savings on your electric bill and to be able to receive an Energy Star Rebate just for purchasing it.

Cons: There were only a few cons that we found, one being it doesn't come with an automatic ice maker. It has to be purchased separately and installed.
It doesn't have any in-door gallon storage which tends to be the more recent choice for refrigerators on most brands.

MSRP: $1099.00 for the higher priced stainless model but the other two have an MSRP of a few hundred dollars cheaper. Across the board all three of these refrigerators will sell for less than recommended.
Take me to Energy Star Refrigerator Reviews
---
3) The Whirlpool W2RXEMMWS Top Freezer Refrigerator:

OVERALL: The W2RXEMMWS is one of the more higher priced stainless steel Whirlpool Top Freezer Refrigerators but it also one of the largest top mounted fridges they make.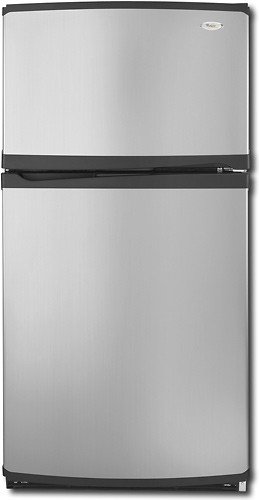 Pros:

Cons: The price point doesn't quite match with the inconvenience of a top freezer refrigerator. For this cost you may want to check out some of the lower end side by side and french door refrigerators.

MSRP: $1249.00 though the black and white start about $200 less. The sales on this fridge do make it much more appealing. We've added a few prices to show you the difference:
Take me to Energy Star Refrigerator Reveiws
---
Other Whirlpool Top Freezer Refrigerator Models
We are happy to tell you that there the close to 2 dozen different models available in the Whirlpool refrigerator line will offer many more choices should you want to take a look at them. We've included 3 more below:
---