GE Profile PFSS9PKYSS Refrigerator
28.5 cu. ft. French Door Refrigerator with Ice/Water Dispenser – Stainless Finish

Overall: The GE Profile PFSS9PKYSS refrigerator is fantastic for a larger size household of at least 4-6 people. It has many amazing features that allow for easy entertaining as well as everyday use. Best of all we've seen it on sale for at least 20-25% off of the MSRP.

Capacity: 28.5 cu. ft.

Notable Features: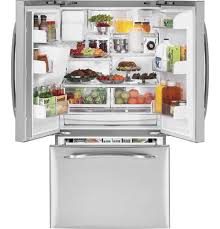 Beautiful Sleek Design: Between the hidden hinges on the doors to the matching ice and water dispenser, this beautiful refrigerator will add a nice updated look to any kitchen. Though be aware that due to its storage abilities it quite big and will stick out 35 ¾".




Gradual LED Lighting: Opening the fridge to a bright light can be rather jarring to your eyes so GE allowed the lights to gradually get brighter in this model. This way your eyes can acclimate quickly and allow you to find whatever it is you need. This is especially great for nighttime snacks.




Extra Fast Cooling: If you've ever taken a shopping trip and brought an entire refrigerators worth of food home at once then you know how long it can take to get your fridge cold again. The TurboCool and TurboFreeze options added to this refrigerator can help get the temperature back to where it belongs faster. The TurboFreeze option is also great for freezing fish, poultry or meats. The faster they are frozen, the better they'll taste when defrosted.




Very Quiet Refrigerator: GE took into account how much time we spend in our kitchens and wanted to make it as serene an experience as possible. With their Deluxe Quiet Design it should seem almost silent.

Colors: Stainless Steel

Efficiency: Is Energy Star rated

MSRP: $2899 is what they suggest it be sold for but we've found it for much less than that. Take a look below at some of the best deals on this fridge right now:
---
Similar Models to GE Profile PFSS9PKYSS Refrigerator
If you'd like to take a look at a few similar French door refrigerator models to compare different brands, we've listed 3 more below.
---
GE Profile French Door Refrigerator Reviews