GE Profile PFSS6PKXSS Refrigerator
25.5 cu. ft. French Door Refrigerator with Ice & Water Dispenser – Stainless Steel finish

Overall: The GE Profile PFSS6PKXSS Refrigerator is wonderful if you need a decent amount of storage capacity that is easy to use and organize.
It is absolutely perfect for a family of 4-6 that are interested in saving energy and money on their energy bills.


Capacity: 25.5 cu. ft.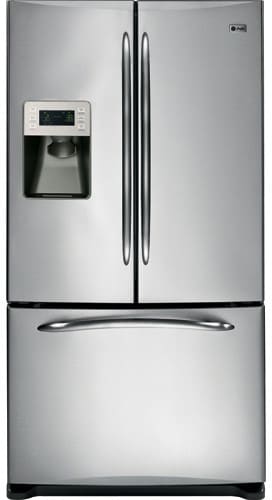 Notable Features:



ClimateKeeper™ System with Dual Evaporators: This special feature makes sure that the temperature is the same throughout your entire refrigerator with the help of extra sensors, an air tower that has many opening and degree specific temperature controls.




Space Saving Ice Maker: Quite often the ice maker in a French door refrigerator takes up a great deal of space, but not in this model. Instead it is tucked up in the top left hand corner, up and out of the way. Space saving, ice making.




LED Lighting: This type of lighting adds a whole new feel of brightness to refrigerators. The light boxes themselves are flush to the walls and ceiling of the refrigerator so as not to take up space they did in the past. Best of all LED lights generate very little heat and almost never burn out.




Two-level Slide 'n Store™ system: The bottom freezer on this model of GE Profile refrigerator is quite easy as it has two different drawers for storing your frozen goods; one for smaller items and another for larger ones. They open and close easily making it a breeze to find what you are looking for.

Colors: Black, White and Stainless Steel

Efficiency: The GE Profile PFSS6PKXSS Refrigerator is Energy Star rated

MSRP: $2599 for the stainless steel version but we've seen it for a great deal less online. Take a look below at some of the best prices we've found it for:
---
Similar Models to GE Profile PFSS6PKXSS
If you found that you liked this refrigerator but wanted to see a few more to compare it with, then take a look at the three models listed below:
---
GE Profile French Door Refrigerator Reviews