Whirlpool Gold Refrigerator GS6NHAXVK Review
25.6 cu. ft. Side by Side Refrigerator with an External Ice & Water Dispenser – Monochromatic Stainless Steel Finish
Overall: The Whirlpool Gold refrigerator GS6NHAXVK is definitely unique amongst all of the other Whirlpool Gold refrigerator reviews. Just scroll down and take a look at the features.
It seems as if they looked at each a problem and came up with a solution and implemented them all. Take a look at all of the amazing features added to make the every day use of this fridge effortless.

Capacity: 25.6 cu. ft.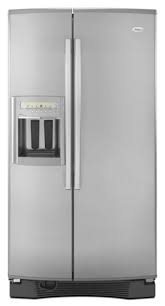 Notable Features:
Amazing Ice & Water Dispenser: Sure it makes and delivers ice and water but what really makes it amazing? Here's the features that we love: (we saved the best for last)

The ice maker is 30% smaller than most and offers a great deal more freezer storage

This ice maker makes ice faster than most so you should never run out

The ice bin is super easy to pull out and replace for entertaining

Great tasting ice and water due to the PuR water filter

The water dispenser fills faster than most so it's perfect for filling pitchers, water bottles or even for cooking.

If by chance you are filling something that is a bit larger, you won't have to tilt it to fill it as the water spout rotates out just for this type of thing

The controls for the ice and water are electronic which means you can tell the dispenser exactly how much water you need. The measurements can be in metrics or by tablespoons or cups. No more measuring!!

The dispenser locks so that little fingers can't figure out how to use this feature without you around

It even comes with an LED nightlight on the dispenser




Tons of Usable Freezer Space: Due to the small sized ice maker that it's in the door, you won't lose even one shelf of storage.

Whirlpool also added some "tilt-out" storage in the doors to allow you to have easy access. We were also surprised to see adjustable slide out shelves in the freezer. Now nothing will get lost in the back of your freezer.




Keeps Food Fresher for Longer: The Whirlpool Gold refrigerator GS6NHAXVK you will help keep your food fresh. There is extra humidity for your produce, extra cool for your meats, and dry and cold in the freezer to prevent frost and freezer burn.




Even Temperature Management: Whirlpool created a system that could react as soon as there was a change in temperature. To do this they added extra sensors and upgraded this refrigerator with their 6th Sense™ Technology. It senses the addition of items warmer than the rest. Or you push a button to increase either the temperature in the refrigerator or freezer for up to 24 hours.

Colors: The model being reviewed here is the Monochromatic Stainless Steel which means practically everything is stainless steel color. Though this fridge also comes in 5 other finishes:
Black
White
Monochromatic Satina (looks like Stainless Steel but it's not)
Stainless Steel (more black touches on this than the one being reviewed)
Monochromatic Stainless Cabinet (this is the most expensive of them all but if you don't want to have a black cabinet around the back of your Whirlpool Gold fridge then this one is the one for you – stainless all of the way around)

Efficiency: The Whirlpool Gold refrigerator GS6NHAXVK is Energy Star rated

MSRP: $2399.00
---
Similar Models to Whirlpool Gold Refrigerator GS6NHAXVK
If you are concerned that there isn't a Whirlpool Gold side by side refrigerator for you or in your price range, don't be. There are many different fridges made by Whirlpool Gold and we've done tons of refrigerator reviews on them. There has got to be one that works for you. Here's three more you might want to take a look at:
---