Whirlpool Gold GR2FHMXVY Top Freezer Refrigerator Review
21.7 cu. ft. Resource Saver Top Freezer with Ice Maker – Monochromatic Stainless Steel Finish
Overall: The Whirlpool Gold GR2FHMXVY top freezer refrigerator is quite difference in appearance than all of the other Whirlpool Gold top freezer fridges as it only comes in Monochromatic Stainless Steel. What this means is everything on this fridge matches the stainless steel.
It also is made for ease of use for everyone at well as people with disabilities. Take a look at some of the added features of this refrigerator.

Capacity: 21.7 cu. ft.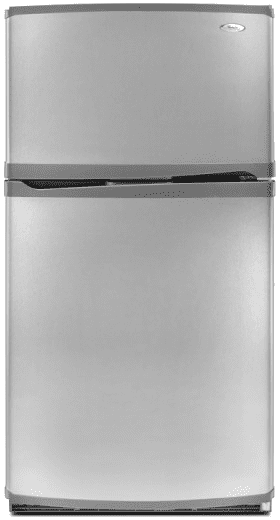 Notable Features:



Refrigerator Storage: Whirlpool made sure that you can easily access everything you need with the: produce crispsers, deli tray, lighting and glass shelves




Freezer Features: Between the built-in wire shelves, the door storage and the ice maker this freezer is ready for use. You'll never have to worry about frost either as it comes with an automatic defrost system.




Easy Access: This top freezer refrigerator was created for anyone to use comfortably. It's also great for anyone in a wheelchair as the entire refrigerator contents and a portion of the freezer are within arm's reach. It also has EZ-Tote® Door Bins located on the door that are easy to re-organize. The handles on them make it even easier to do.

Colors: This fridge is unique in that regard as it only comes in one finish and that is Monochromatic Stainless Steel.

Efficiency: The Whirlpool Gold GR2FHMXVY top freezer refrigerator is Energy Star rated and a Resource Saver refrigerator.

MSRP: $1299 This Model is DISCONTINUED
---
Similar Models to Whirlpool Gold GR2FHMXVY Top Freezer Refrigerator
Whirlpool Gold typically caters to the upper end and higher priced refrigerators. If you're thinking about buying a top freezer refrigerator we think you should take a look at the other brands on the market as there is a huge price difference. Of course there is also a difference in quality but it's just a good idea to know what's out there. Take a look at these three top freezer fridges to see what we mean:
---