Whirlpool Gold G2IXEFMWS Top Freezer Refrigerator Reviews
21.7 cu. ft. ADA Compliant Top Freezer Refrigerator with Ice Maker – Stainless Steel Finish

Overall: The Whirlpool Gold G2IXEFMWS top freezer refrigerator takes the idea of a top freezer refrigerator and spices it up with beautiful styling and added features to bring it nicely into the 21st century. While it is ADA rated, you would never know it from it's appearance.

Capacity: 21.7 cu. ft.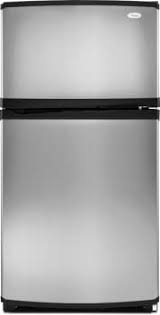 Notable Features:



PUR Water Filter System: Quite often we see water filters placed in top freezer fridges for great tasting ice but this refrigerator also offers an internal filtered water dispenser. Now you'll have cold, clean water all of the time.




The New Look of Top Freezers: Top freezer refrigerators were the original style of fridges but until recently they always looked like it. Not the G2IXEFMWS. The contouring and finishes really give this fridge a fresh, new, updated look that will surprise you.




All Automatic: Well hello 21st century! Between the automatic ice maker, automatic defrost system, and the Energy Star rating you'll have very little to do except enjoy using it.

Colors: The model number for this fridge refers to the stainless steel. But if you are looking for other colors it also comes in White and Black

Efficiency: The Whirlpool Gold G2IXEFMWS Top Freezer Refrigerator is Energy Star rated

MSRP: $1349.00 but this is the most expensive finish. The other two tend to run $200 less.
---
Similar Models to Whirlpool Gold G2IXEFMWS Top Freezer Refrigerator
We believe that knowledge is power and in that direction we've also included 3 more models of stainless steel top freezer refrigerators from other brands for comparison. It's always good to know what's out there, so take a look:
---