Whirlpool EB9SHKXVQ Bottom Freezer Refrigerator Review
18.5 cu. ft. Bottom Freezer Refrigerator with Ice Maker – White Finish

Overall: The Whirlpool EB9SHKXVQ bottom freezer refrigerator is one we would recommend for a home with smaller needs, due to the smaller interior capacity. This is a great size for one to two people or for a smaller family that doesn't mind shopping every few days.

Capacity: 18.5 cu. ft.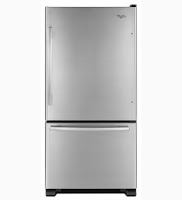 Notable Features:



Ease of Temperature Management:Whirlpool installed many extra features to let them do the driving, keeping your fridge the temperature you want it. The control panel allows you to change the temperature with a push of a button, the built in defrost keeps your freezer from looking like December in the middle of July, and the Accu-Chill™ Temperature Management System is fancy terminology for extra energy efficient construction to hold the cold in for longer. So cool can be cool.




Freezer Access: This type of refrigerator is a bit different as to how the freezer opens. Most bottom freezer fridges slide open from the door, though this fridge has a door that swings out and then a wire basket rolls out. This way you'll be able to see what's on the sides and below in your freezer. The freezer light helps as well.




Smaller Size=Smaller Energy Bills: Of course the size of capacity will make a difference as to how much food you can put in your fridge at a given time but lately people have been going to smaller refrigerators because they tend to use less energy.

Colors: This refrigerator only comes in White.

Efficiency: The Whirlpool EB9SHKXVQ bottom freezer refrigerator is Energy Star rated even with an automatic ice maker installed and on.

MSRP: $1049.00
---
Similar Models to Whirlpool EB9SHKXVQ Bottom Freezer Refrigerator
Considering there are so few bottom freezer refrigerators made by each brand we thought being able to take a look at a few other refrigerators from other lines might help you find exactly what you are looking for. If you would like to see more bottom freezer refrigerators, either click here, or take a look at the three models we've listed below:
---