Amana ABR2222FES Bottom Freezer Refrigerator Review
22.1 cu. ft. Easy Reach Plus Bottom Mount Refrigerator - Right Hinged - Stainless Steel Finish
Overall: The Amana ABR2222FES Bottom Freezer Refrigerator is one of the Top Rated Amana Refrigerators. With 22.1 cu. ft. of storage space, extremely quiet running and the durability of the Amana brand, you can understand why.
This fridge was one of the Top Performers in the Amana appliance line and remains quite popular with many consumers. It's got a bit higher of an MSRP for this type of fridge ($1,800.00) but we've managed to find it as low as $1,200.00. If you opt to not have it in stainless steel, you can find it for about $1,000.00.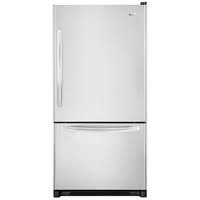 Capacity: 22.1 cubic feet.

Notable Features:
First off, the door with Reversible Swing was fantastic.
We loved the touch controls to provide the fridge with more accurate temperature maintenance and the Temperature-controlled Chef's Pantry™ drawer with divider will keep your meats and cheeses extra fresh.
The 2 humidity-controlled Garden Fresh™ framed crisper drawers actually kept our test fruits and veggies fresh well beyond the expected "wither" date.
There is no ice maker available on this unit which we felt you might miss.  We realize this is actually a LACK of a feature, but you should be aware that you'll be making your own ice.


Colors: Our test unit was a Stainless Steel finish but it comes in Black, Bisque and White as well.

Efficiency: This model is ENERGY STAR® qualified - meaning it exceeds federal energy efficiency standards by 15% to help you save energy.
(Click here to see more Energy Star Refrigerator Reviews.)

MSRP: $1,839.00 was the original MSRP but this model has been discontinued which makes it almost impossible to find in a store. Though you may be able to find it at a closeout warehouse at a really low price.
---
Similar Bottom Freezer Refrigerators to the Amana ABR2222FES

Don't want a discontinued model? No problem, we always include a few more models worth looking at for comparison's sake. While you might still be thinking of buying a bottom freezer refrigerator know that there are other companies that make wonderful models besides just Amana.
(And if you are open to it, you might want to look at other types of refrigerators while you are at it.) Here are links to help you find models that might be the perfect fit for your life: