Amana ABL2222FES Bottom Freezer Refrigerator Review
Amana ABL2222FES - 22.1 cu. ft. Easy Reach Plus Bottom Mount Refrigerator - Left Hinged - Stainless Steel Finish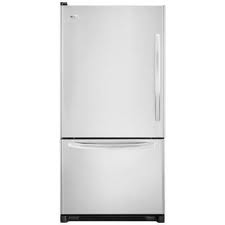 Overall:  Amana ABL2222FES is a perfect choice for those consumers who need an affordable and stylish refrigerator with enough storage space for 2-3 people.

Not ideal for a large family, this refrigerator is perfect for those living on their own.
Capacity: 22.1 cubic feet - honestly that's a great deal of storage.

Notable Features:
First off, the door with Reversible Swing was fantastic. Put it in any kitchen and it works fine for any layout.
We loved the touch controls to provide the fridge with more accurate temperature maintainability. No more guessing at it with the numbers on your old dial.
The Temperature-controlled Chef's Pantry™ drawer was really great for deli items like cold cuts and cheese.
The 2 humidity-controlled Garden Fresh™ framed crisper drawers actually kept our test fruits and veggies fresh well beyond the expected "wither" date.
One thing we really wished was different was the lack of an ice maker on this unit which we felt you might miss.
About Amana:  One of the many things we love about this refrigerator is that it comes from Amana.  We find Amana to be one of the more reliable brands out there.

Amana is part of the Whirlpool family of refrigerators.  Amana is affordable and stylish and has some of the best marks in efficiency across the board.

It's routinely listed as a favorite of many consumers and comes up on the high end of many consumer surveys.

Colors: Our test unit was a Stainless Steel finish but it comes in Black, Bisque and White as well.

Efficiency: The Amana ABL2222FES is ENERGY STAR® qualified - meaning it exceeds federal energy efficiency standards by 15% to help you save energy.
(Want to see more energy efficient refrigerator reviews? Then Click Here.)

MSRP: $1,839.00 was what it was suggest to sell for but it has since been discontinued.
The good news is that we have more bottom freezer refrigerator reviews that should be able to help you in your search, just scroll down and click to see them.
---
Similar Amana Bottom Freezer Refrigerators
Don't worry about this bottom freezer being discontinued, all refrigerator manufacturers discontinue models all of the time. The good news is often they update their product lines with newer and updated versions of their previous styles.
If you are looking for a refrigerator that is similar to the model listed above then take a look at the links we have below. See if any of them fit what you are looking for or click on the button below:
Amana Bottom Freezer Refrigerators

---