Samsung RB215ACPN Refrigerator Reviews
20 cu. ft. Bottom Freezer Refrigerator with Automatic Icemaker – Platinum Stainless Finish
Overall: The Samsung RB215ACPN refrigerator review shows that this is one bottom freezer refrigerator that comes with all of the bells and whistles and still adds a sense of style to any kitchen.
The extra cubic feet that this fridge offers can make a big difference if your household has a lot of people in it.

Capacity: 20 cu. ft.

Notable Features: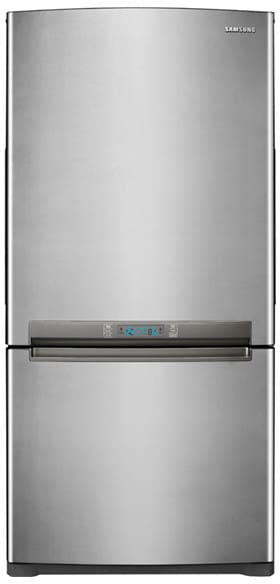 Twin Cooling System®: This system keeps odors and moisture where they should be which means no frost in your freezer, and the ice will taste like ice not last night's leftovers.

Reversible Doors: Not sure if your fridge should open left or right? No worries. With the Samsung RB215ACPN you'll be able to change your mind even after it's installed -- or after the kitchen remodel!

Stainless Platinum Finish: This finish is quite amazing because while it looks like stainless, you really won't have the same problems with getting it clean and keeping it clean. It's also magnetic, which stainless steel is not. Though best of all, it tends to cost around $100-$200 less!

Great Cooling Ability: Between the Multi Air Flow that keeps air evenly circulating and an external display panel you can be sure the temperature is perfect, everywhere in your fridge and freezer.

R-134a Refrigerant: In the past, refrigerators used Freon to cool themselves but over time we've realized how it is for our planet. With R134a it doesn't effect the ozone layer and is free of other chemicals like chlorine that can also be a problem.

Internal Filtered Water Dispenser: While there is an ice maker with filtered water, what good would that be if you had to drink unfiltered water with it? The water dispenser in this unit can be found within the fridge itself.

Easy Organization: Not only are there 2 humidity controlled compartments, a chill compartment and 3 glass shelves, there is also gallon storage in the door.

Colors: Stainless Platinum (but this model does come in Black and White as well)

Efficiency: The Samsung RB215ACPN is Energy Star rated and is expected to cost $48 per year to run using 450 kWh.

MSRP: $1199.00 if the cost for the Stainless Platinum model. If you are on a budget you may want to take a look at the Black and White models as they tend to be less expensive.
---
Don't worry if the price above is a bit more than you'd like to spend because typically the actual retail price tends to be less. To find out what it's currently selling for, take a look below:
---
Similar Models to the Samsung RB215ACPN Refrigerator
If you find that the Samsung RB215ACPN Refrigerator of bottom freezer refrigerator doesn't suit your needs, there are other Samsung bottom freezer refrigerators that might. Take a look at the three models below to see if one works better for your needs.
---