LG LTC19340ST Top Freezer Refrigerator with Ice Maker -- Stainless Finish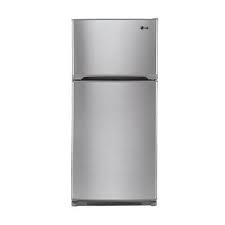 Overall: This LG top freezer is ideal for someone on a budget still looking for style and functionality.

Capacity: 19 cu. ft.

Notable Features:
Before we get into the features of the first of these LG top freezer refrigerators, let's remember to keep things in perspective: it's a top freezer refrigerator. While there are definitely interesting things in this model, it will be able to compare with other styles just based on the fact that it is a top freezer refrigerator.


Updated Appearance: If you are considering the stainless finish, it will add a nice updated feel. It doesn't have any handles on the outside but it has built in handles into the door.

Energy Efficiency: This model is Energy Star Rated as are most top freezer refrigerators. To be honest, if you are looking for a very energy efficient refrigerator, then this is truly the style to look at.

Digital Controls: Finally you can know exactly what temperature your refrigerator is at all times. No more guessing that you should turn the dial up from 4 to 5, hoping that your lettuce won't freeze.

Built In Ice Maker: One thing we can tell you that is a must do when it comes to top freezer refrigerators is the ice maker being factory installed. You never, never, never want to install it after purchasing. We've heard one too many stories of leaks happening from this and causing severe damage.

Easy Organization: Between the glass shelves (so much better than wire ones), the dual crispers for veggies and produce and the in-door gallon storage space you should have no trouble storing whatever you need.

Colors: This model comes in smooth black, smooth white and stainless steel

MSRP: $649-$899 depending on the finish. We always recommend the stainless finish if you can afford the jump in price because typically it makes this purchase feel more like a splurge and adds a bit more to most kitchens.
---
LG LTC22350SS Top Freezer Refrigerator with Built In Ice Maker, 33" width - Stainless Steel Finish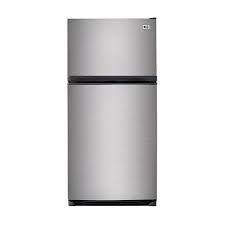 Overall: The best way to describe this fridge would be to say take a traditional fridge and give it a stylish updated makeover.
These aren't the 1960's versions your grandmother had, instead these truly live up to the next century.

Capacity: 22.1 cu. ft.

Notable Features:


The doors are contoured and the hinges are hidden to make it look sleek and modern.

While this model comes in white it also comes in Stainless Steel.

The 22.1 cu. ft. of interior storage space is ample for a family of four.

It comes with a factory installed icemaker and an ice bin which not all top freezer refrigerators have and this one also has freezing function that can be sped up to make ice faster or even freeze items faster, such as meats.

Glass shelves in the refrigerator add to the stylish look

Built in door handles make it look sleek

Very quiet

Colors: This model comes in Smooth White and Stainless Steel

Cons: There were basically no negatives to this fridge except for the fact that it would have been nice to have a light in the freezer. Otherwise we felt that both of them were really a good purchase.

MSRP: The stainless steel runs $849 and the black and white finishes are $699 though check around because we've seen it at least 15% below this price.
You may want to see the models in person before buying them to see if it's actually worth the extra $210.00 to get the stainless steel though usually it makes a nice difference. Here's what it is selling for right now:
---
Other Top Freezer Refrigerators
Looking at just two LG top freezer refrigerators may not seem like enough to know if one of them is right for your needs. So here are three more top freezer refrigerators to take a look at for at the very least comparison's sake:
---
LG Top Freezer Refrigerators Related Articles
Top Freezer refrigerators: Not sure if you need a top freezer? Take a look at this page to find out.
Considering the small selection of LG top freezer fridges, here's a few other brands that also make top freezer refrigerators:
---