Amana ASD2627KEW Side by Side Refrigerator Review
25.6 cu. ft. Side by Side Refrigerator - White Finish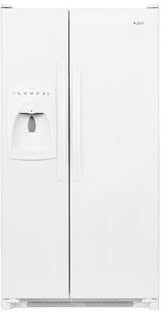 OVERVIEW: The Amana ASD2627KEW was recently rated a Consumer Reports best buy. 

We have to say that this was by far one of the best side by side refrigerator models we have covered in this price range. 

It has an attractive design, it holds temperature efficiently and effectively and it comes with a wealth of features that make this model a true standout in the Amana line as well as all side by side refrigerator models.
STYLE:  The styling of this unit is fairly simplistic, but quite effective. We found that Amana really took the time to get some of the details right.  
We love the way the handles blend in with the rest of the unit and the look of the ice/water dispenser is also quite attractive.

CAPACITY: This Amana Fridge Freezer has a 25.6 cubic foot interior which was one of the larger side by side refrigerators in this price range. 

The Amana is truly well designed -- even with our "test stock" (typical weekly food supply for a family of four), the fridge provided ample storage space. 

The 10.0 cu. ft. freezer was larger than most in this category, and the space was well engineered


---
---
NOTABLE FEATURES:  The ice maker on this Amana Side by Side Refrigerator was able to crank out almost 7 pounds of ice per day.
Compare that with the 3.4 pounds of ice that most conventional ice makers put out and you see how significant that is.
The freezer light came in handy -- you'd be surprised how many Side by Side Refrigerators do NOT have this feature.
The "TILT-OUT" door bins and the beverage chiller were also great additions.
COLORS:  This model comes in Stainless Steel (Model # ASD2627KES), white on white (Model #ASD2627KEW) and black on black (Model #ASD2627KEB)
EFFICIENCY:  It's ENERGY STAR Qualified
DIMENSIONS:  Its dimensions are: DEPTH – 33 1/4 in., WIDTH – 35 5/8 in., HEIGHT 70 in.
MSRP:  $1,349.99 was the MSRP from Amana but we are sad to say that this beautiful fridge is no longer being made and is discontinued.
---
Similar Side by Side Refrigerators to the Amana ASD2627KEW

Looking for a few other options instead of the Amana ASD2627KEW? Here are a few other links for side by side refrigerators that are worth taking a look at:
Amana Side by Side Refrigerator Reviews
Side by Side Refrigerator Reviews
---