Amana ABR2227FES Bottom Freezer Refrigerator
Easy Reach Plus Bottom Mount Refrigerator - Right Hinged - Stainless Steel Finish
Overall: The Amana ABR2227FES Bottom Freezer Refrigerator is well priced and we would rate this fridge a Consumers Best Buy. At an MSRP of about $1,800.00 (and sells for closer to $1,600.00), this gorgeous bottom freezer fridge has just about everything you might need at a perfect price.
If you're looking for a high quality fridge that will give you the storage you need without the high priced extras, then this is the model to consider.

Capacity: With 21.9 cu. ft. of storage space, you will find plenty of space for just about all of your food items.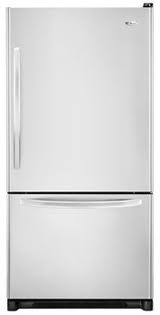 Style: The styling of this unit is conservative. Its sleek and modern looking style should blend well into just about any kitchen decor. As with many in the Amana Refrigerator Bottom Freezer Line, this refrigerator comes with either a LEFT door hinge or a RIGHT door hinge (Model #ABL2227FES).

Notable Features:
The Temperature-controlled Chef's Pantry™ drawer with divider is a convenient way to keep meats and cheeses fresh

The 2 humidity-controlled Garden Fresh™ framed crisper drawers keep fruits and veggies at their premium condition.

We HIGHLY recommend you opt for the icemaker. For an extra $200.00 this unit simply isn't the same without it.

Colors: Our test unit was a Stainless Steel finish. It stood up well to fingerprints and scratches and the finish was very easy to clean. This unit also comes in Black, Bisque and White.

Efficiency: This model is ENERGY STAR® qualified - meaning it exceeds federal energy efficiency standards by 15% to help you save energy.
(Click here to see more Energy Star Refrigerator Reviews)

MSRP: $1,795.00 is what it was expected to sell for but seeing that this is now a discontinued model, if you can find it you might be shocked at how much less it is selling for.

---
Similar Bottom Freezer Refrigerator Models to the Amana ABR2227FES

Seeing how the Amana ABR2227FES has been discontinued we thought you might want to see three more current models.  Be aware that Amana has added in a number of great features into their more recent models, so you might want to consider looking through their entire catalogue of Bottom Freezer models before you make up your mind.

Click on one of the links below to help you find a current refrigerator that might suit your needs: