Amana ABL2227FES Bottom Freezer Refrigerator
Amana ABL2227FES Easy Reach™ Plus Bottom-Freezer Refrigerator - Left Hinged - Stainless Steel Finish
Overall: The Amana ABL2227FES Bottom Freezer Refrigerator is well priced and we would rate this fridge a Consumers Best Buy.
At an MSRP of about $1,800.00 (and sells for closer to $1,600.00), this gorgeous bottom freezer fridge has just about everything you might need at a perfect price. If you're looking for a high quality fridge that will give you the storage you need without the high priced extras, then this is the model to consider.
Capacity: With 21.9 cu. ft. of storage space, having enough room won't be a problem for you.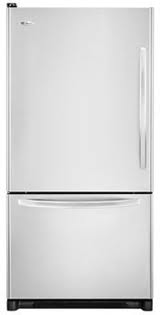 Style: The styling of this unit is conservative and offers a nice upscale look for almost kitchen decor. This refrigerator model comes with a LEFT door hinge but it can also be found with a RIGHT door hinge: (Model #ABR2227FES)

Notable Features:
The deli drawer has the ability to section off the meats and cheeses. Easy access to fresh food.
The 2 humidity-controlled Garden Fresh™ framed crisper drawers keep fruits and veggies at their premium condition.
While buying the ice maker is around $200 more, seriously think about it. For the ease and convenience of having ice when you need it and feeling like you got a great fridge, it's really worth it.

Colors: Our test unit was a Stainless Steel finish. We were pleasantly surprised that it stood up well to fingerprints and scratches. Best of all it didn't take much to clean them off. This unit also comes in Black, Bisque and White.

Efficiency: This model is ENERGY STAR® qualified and should help save you money on your electric bill.
(For more energy efficient refrigerator reviews click here.)

MSRP: $1,795.00 was the MSRP but this model is no longer being made by Amana and has been discontinued. Don't worry we've got you covered -- just scroll down to see more of our bottom freezer reviews.

---
Similar Refrigerator Models to the Amana ABL2227FES

Yes, quite often appliance companies discontinue their models, in all honestly they phase out models every year based on how well they sell as well as how they can make the models better (and in turn charge more ;)
In case you still want to take a look at a few more bottom freezer refrigerator models of Amana's, then click on the blue box below to more models worth taking a look at: