LG InstaView Refrigerator

22 cu.ft. Smart Wi-Fi Enabled InstaView™ Door-in-Door® Counter-Depth Side by Side Refrigerator
Model No:  LSXC22396D
OVERALL:  The all new LG InstaView Refrigerator with Door in Door feature is one of the best models we've seen ever from LG Refrigerators.

---
This refrigerator is one of many that have the LG InstaView feature, but it's a Side by Side Refrigerator that allows the flexibility of a French Door with the capacity of a Side by Side.
It's loaded with features, many of which we describe in detail below. 
LG is known for its reliability, styling and affordability and this LG InstaView Refrigerator ticks all of those boxes.
It was recently named one of our Top 10 Refrigerators for 2019 . 

Notable Features of the LG InstaView Refrigerator:

This LG InstaView Refrigerator is loaded with features, such as:


LG's Exclusive InstaView™ Door-in-Door® feature:  These refrigerators have a sleek glass panel that allow you to see what's inside the refrigerator without actually opening the door.

By simply knocking on the outside glass you will trigger an internal LED that allows you to see inside.
Counter Depth -- Although you sacrifice a bit of internal storage space, having a counter depth refrigerator allows a clean alignment with countertops and cabinetry.

This give you a sophisticated built-in look.


PrintProof Finish -- One of the big drawbacks to owning a Stainless Steel Refrigerator is that fingerprints always find their way onto the doors.

LG's exclusive PrintProof finish manages to keep this in check.  It's pretty amazing how well this finish works especially when you compare it to similar products on the market.


LG SmartThinQ -- You can get notifications on your smartphone if your refrigerator door is left open.  That said, if you've left it open that long you might have bigger fish to fry!

One thing we love about the LG SmartThinQ® app is that it works with both Alexa and Google Home.  Unlike the Samsung Refrigerators that have their own system they force you to use.

LG Door-in-Door Feature:  Along with the InstaView feature, they also offer the Door in Door Feature which allows easy access to your more common food choices.

Although other refrigerator brands offer a similar feature, we feel that LG's Refrigerator models maximize the whole door-in-door technology.  It's deep enough, but not so intrusive that it negatively affects the interior storage space.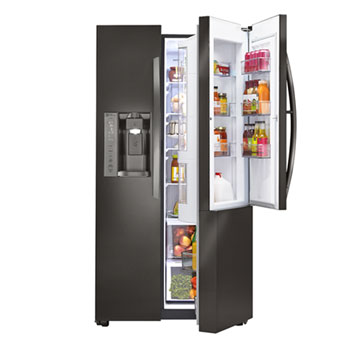 Other Relevant Information

CAPACITY:   22.0 Cubic Foot InterioR

COUNTER DEPTH

COLORS:  Black Stainless Steel and Stainless Steel


MSRP:  $2,599.00 (But closer to $2,199.00 online.)

---
---