GE PGSS5PJXSS French Door Refrigerator Review
GE Profile French Door Refrigerator with Armoire Styling and Two Freezer Drawers External Dispenser - Stainless Steel
OVERALL: The GE PGSS5PJXSS French Door Refrigerator is one of our favorite models from the GE Profile line. Not only becuase of its size, but also because of the many unique features such as the double freezer drawer.

PROS: This GE French Door Refrigerator has Stainless-Steel Doors with Top & Bottom Bevels which provide a striking finish and contoured doors to accentuate kitchen decor.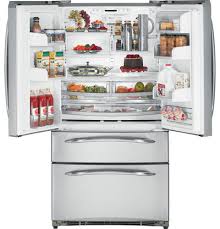 Our favorite features of this model are the Two Freezer Drawers which add convenience by allowing easy access and organization of frozen foods.




The External Water Dispenser with LCD Controls offers fresh water and also makes it easy to monitor all the functions of the refrigerator.




The GE has a unique ClimateKeeper™ Temperature Management System which has electronic sensors that give you a greater degree of control over food preservation.




Another favorite feature is the LED Lighting which even spreads out the light throughout the fridge.




Lastly, the QuickSpace™ Shelf quickly slides out of the way to make room for tall items.


CONS: Not too much to complain about with this particular fridge, except maybe the icemaker could be a bit faster.


MSRP: $2800.00
---
Similar GE French Door Refrigerators
While this model of refrigerator is quite beautiful, we're sad to say that it has been discontinued even though you still may be able to find it in a few retailers. Should you still want a similar refrigerator, here are a few that are still available and worth taking a look at:
---

GE Refrigerators

French Door Refrigerator Reviews

Stainless Steel Refrigerator Reviews