Amana AFB2534FES French Door Refrigerator Review
24.8 Cu. Ft. French Door Bottom-Freezer Refrigerator - Stainless Steel Finish
Overall: The Amana AFB2534FES didn't exactly thrill us at first. We found it rather simplistic in both styling and design for the price. But, after a bit of familiarizing ourselves with the different components and features, it soon won us over.
Mainly its various storage options such as the bottle caddy which corrals your favorite drinks in one convenient place.
Also the EasyFreezer™ pull-out drawer with EasyClose drawer rack system which rolls open and closes smoothly.
The Slide-out upper freezer basket keeping your frozen items within reach.
And the Glide-out lower freezer basket with QuickSplit™ organizer offers easier access to all your frozen items. Seriously great storage capacity.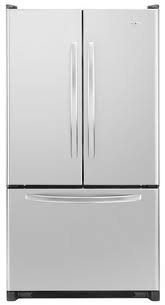 Style: The Styling of this French door refrigerator combines bottom freezer design with contoured twin refrigerator doors, offering style and convenience for any kitchen. It's smooth stainless steel finish will compliment just about any decor.

Capacity: It has 24.8 cu ft. capacity which should be enough to holds all your day-to-day needs plus extras for those special occasions.

Notable Features: Aside from what we already mentioned above, some of the features that stood out were the:


Temperature controlled Chef's Pantry™ drawer with divider stores that help keep meats and cheeses fresh.

The Four half-width adjustable Spillsaver glass shelves
The Two EasyGlide™ shelves pull out so food way in the back is easily accessible.

Colors: Our test unit came in a Stainless Steel finish which stood up well to fingerprints and scratches. The finish was very easy to clean as well. This French Door Refrigerator also comes in White (Model #AFB2534FEW) and Smooth Black (Model #AFB2534FEB).

Efficiency: This model is ENERGY STAR® qualified - meaning it exceeds federal energy efficiency standards by 15% to help you save energy.
(Click here for more Energy Star Refrigerator Reviews)

MSRP: $2,200.00 was the retail price but this model has been discontinued and is no longer available. Take a look at the models listed below to see current models.
---
French Door Refrigerator Models Similar to Amana AFB2534FES

Now if you're like most people who come to our site, we can guess that you probably aren't looking for a used version of the Amana AFB2534FES. That's not a problem. We're used to refrigerator models being discontinued and replaced with newer ones.
Not sure exactly what you want? That's not a problem either. We've got you covered. Just take a look at the links below and click on the one that seems like the best place to start:

Take me Amana French Door Refrigerator Reviews