Amana AFF2534FES Refrigerator Review
A Truly Affordable Stainless Steel French Door Refrigerator
Overall: In our Amana AFF2534FES Refrigerator review shows this French Door, Bottom Freezer Refrigerator is truly one of the most well priced refrigerators of this type and style. We proudly rate this fridge a Best Buy.
At an MSRP of about $1,700.00 it typically sells for just under $1,300.00.
With the styling and feature set of refrigerators costing hundreds more, this is definitely a model to consider.

Capacity: This refrigerator has a HUGE 24.8 cubic foot interior which is more than enough for a typical four person family.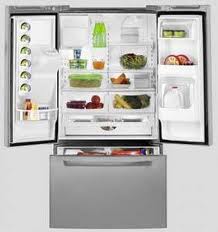 Typically, you sacrifice a bit of freezer space with most French Door refrigerators, but surprisingly, with the Dual Slide Out Baskets and Glide Out Bottom Drawer with Quick Split baskets, they really maximize the amount of usable space.

Style: In doing this Amana AFF2534FES refrigerator review we found the styling of this unit is sleek and modern looking style and should blend well into just about any existing kitchen decor.


Notable Features:
The TempAssure temperature control system allows you to manage the internal temperature with ease.


Also, the Chef's Pantry Drawer has its own temperature settings allowing you to separate certain food products that may require very specific temp settings.


The Soft Sounds package makes sure that this refrigerator is SEEN and not HEARD.


The EasyFreezer pull out drawers were surprisingly spacious and very easy to manipulate to accommodate larger items (like a frozen turkey).

Colors: Our test unit was a Stainless Steel finish. It's also available in WHITE. The stainless model stood up well to fingerprints and scratches and the finish was very easy to clean.

Efficiency: This model is ENERGY STAR® qualified - and should run approximately $54.00 per year to operate.
(If energy efficiency is important to you, click here to see our list of Energy Star Refrigerator Reviews.)

MSRP: $1,695.00 is what it was suggested to sell for but it has been discontinued. You may have a bit of luck still finding it on the market but most retail stores no longer have this model.
Take a look below for some more recent Amana French Door Refrigerator Reviews.
---
Looking for Something Similar to this Amana AFF2534FES Refrigerator Review

Want to take a look at current (not discontinued) Amana French door refrigerator models? That's easy. Just click on the blue refrigerator review box below to see our favorites or click on any of the links below it: