Whirlpool Gold Refrigerator GI7FVCXXY Review
27 cu. ft. French Door Latitude Refrigerator with Ice & Water Dispenser – Monochromatic Stainless Steel Finish
Overall: The Whirlpool Gold refrigerator GI7FVCXXY has more room in the refrigerator than most other French door refrigerators which makes it perfect for larger families or households.
Not only is this refrigerator large, it offers many upgraded features that should make you feel pampered in your own kitchen.

Capacity: 27 cu. ft.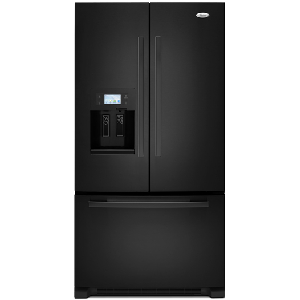 Notable Features:


Easy to Use Storage Space: The 27 cu. ft. of storage space is fantastic if you have a large family or like to entertain often. The storage bins in the door hold more than most as they were made larger for this purpose. There are drawers in the fridge for produce as well as meat and cheese and the freezer bin is there to help find what you need quickly.




Food Safety: If the power goes out when you're not home it's almost impossible to know if your food is still edible. Just because of this Whirlpool refrigerators installed an alert to tell you if the power was out and for how long. No more concerns about whether you food is still fresh.




Fantastic Ice & Water: The PUR water filter system that will save you hundreds of $s per year on no longer buying water. Now you'll always have chilled water as well as crushed or cube ice.




Easy Water Dispensing: As for filling larger bottles or pitcher, between the removeable tray and rotating water spout no container is too big. If you need exact measuring that's no problem for this fridge, just tell the water dispenser exactly how much water you need down to the cup, ounce or liter.




Door Alarm:This may not seem very important but if you've got little ones or if you've ever lost an entire refrigerator full of food you know how costly that can be. This alarm will sound if the door is left open or wasn't closed all of the way.

Colors: This refrigerator review covers the Monochromatic Stainless Steel (which is mostly steel colored except for a bit of black around the ice/water dispenser). It also comes in Black, White and Monochromatic Satina (this is Whirlpool's version of faux stainless).

Efficiency: The Whirlpool Gold Refrigerator GI7FVCXXY is Energy Star rated.

MSRP: $2599.00
---
Similar Models to Whirlpool Gold Refrigerator GI7FVCXXY
If for some reason this fridge doesn't seem like it fits your needs, no worries. This is only one of our reviews of Whirlpool Gold French Door refrigerators click here to see more reviews. Otherwise here are three more refrigerators you may want to take a look at.
---