Whirlpool Gold Refrigerator GI0FSAXV
19.8 cu. ft. Counter Depth French Door Refrigerator with Ice & Water Dispenser – Monochromatic Stainless Steel Finish
Overall: The Whirlpool Gold refrigerator GI0FSAXVY may be the only counter depth French door refrigerator in the Whirlpool Gold line but it takes care of every possible need you might have.
We've listed some of the amazing features below to better understand what makes this refrigerator so special.

Capacity: 19.8 cu. ft.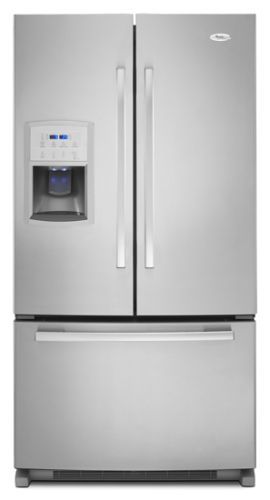 Notable Features:



Beautiful Styling: This counter depth refrigerator creates a beautiful, sleek built in look that upgrades any kitchen. It's smaller footprint also offers more space in your kitchen and is still a very spacious French door refrigerator.




Digital Control Panel: Knowing the exact temperature is in your refrigerator or freezer was almost impossible before the addition of a digital temperature read out. In the past all we had was dials to choose the "setting" without really knowing what that meant. Now you can change the temperature by as little as a degree at a time.




Innovative Storage: There is plenty of storage for milk or juice in the door as that's the best place for it. The shelves are meant to hold everything else front and center. The drawers keep produce, meats and cheeses fresher for longer.The freezer has an extra drawer to be able access your daily items easily.




Great Temperature Control: Whirlpool has created many different systems to guarantee that this refrigerator keeps a constant temperature throughoutat all times.

Colors: This model has the Monochromatic Stainless Steel finish but it also comes in Black

Efficiency: The Whirlpool Gold Refrigerator GI0FSAXVY is Energy Star rated

MSRP: $2899.00 for this finish but the black one tends to be around $200 less.
---
Similar Models to Whirlpool Gold Refrigerator GI0FSAXV
Buying a counter depth French door refrigerator is a big decision and we recommend doing as much research as you can. Click here to see more counter depth refrigerator reviews.. Otherwise we've listed 3 other counter depth French door refrigerators that are worth looking at.
---