Samsung RFG237AARS Refrigerator
23 cu. ft. Counter Depth French Door Refrigerator with Exterior Ice/Water Dispenser – Stainless Finish
Overall: The Samsung RFG237AARS refrigerator is one of the best selections on the market for someone in need of a refrigerator with a bit more internal space and the sleekness of a counter depth refrigerator.
If you take a look around, this 23 cu. ft. counter depth refrigerator is actually one of the biggest around. Besides all of the extra space this Samsung refrigerator comes with more than a few other goodies.

Capacity: 23 cu. ft.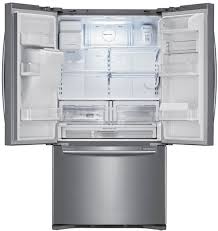 Notable Features:
The Samsung RFG237AARS refrigerator in particular has so many great features that it's almost impossible to mention them all but here's a few that caught our eye that don't need a description:
Gallon door bins,Door Alarm,Egg Container, and Wine Rack.
Now here's a few more features that really add a great deal to this fridge:
LED Interior Lights: If you had come to our site previously we had mocked this feature in the past as bad "Star Trek" lighting but honestly we have to take that back. It is surprising how much easier it is to see with an LED light and find pretty much anything in the fridge.

The other really interesting thing about this lighting is that it should never heat up, unlike the typical 60w bulb. This may not seem like a real issue but we've have heard many complaints over exactly 60w bulbs heating up and almost causing a fire.

Twin Cooling Plus System®: Alright let's get through this marketing slang and tell what this really is. This refrigerator has two separate systems so that the air circulated in the Samsung RFG237AARS refrigerator doesn't end up in the freezer and vice versa. The reasons why this is important is odors from one side won't end up everywhere and moisture that is needed for fresh fruits and vegetables won't cause frost all over your freezer.

Expedited Cooling and Freezing: Now when you forget to put the bottle of wine in the fridge before company comes over, you'll be able to chill it fast in the fridge. As for the freezer, the faster you freeze fresh items, the better they taste when they defrost, just ask Mr. Birdseye himself. If you buy meat, chicken, or fish (or anything else) in bulk and freeze them into smaller portions, then this feature will definitely make a difference in the way your meals taste.

Easy Open Freezer Drawer: The very first bottom freezer drawer refrigerators were very difficult to use as no took into account how heavy those drawers became once filled with frozen foods. Over time it became more of a chore to open and close your freezer so Samsung found a way to change this. The drawer opens and closed easily, more like it's gliding than rolling on rollers.
Colors: Black, White, Platinum and Stainless Steel
Efficiency: Is Energy Star rated
MSRP: $2899.00 for the Stainless steel model. The other colors run $200-$300 less. Remember that's the MSRP as in "suggested" retail price, not the actual retail price. Take a look below to see what it's selling for currently:
---
Similar Models Samsung RFG237AARS
While this is a great Samsung Counter Depth refrigerator, there are many other counter depth French door refrigerators on the market. Take a look at the three listed below to see if any better suit your needs.
---