LG Studio Series Refrigerators
The LG Counter Depth Refrigerator without the Built In Refrigerator Price!
The LG Studio Series refrigerators line was created for a very upscale, integrated, built-in look to upgrade any kitchen. All of these refrigerators are made at a counter depth to help create this built-in refrigerator look.
The styles of refrigerators in this line are only counter depth side by side refrigerator and 3 and 4 door French door counter depth refrigerator bottom freezers. All of these models come with a stainless steel finish on the doors and a black cabinet color on the sides and back.
All of the French door refrigerators have a slightly smaller storage capacity of between 20.5-20.7 cu. ft. whereas the side by side Studio series refrigerator offers slightly more room at 23.5 cu. ft.
---
Current LG Studio Series Refrigerator Models
The following are the 3 models that are currently part of the line of LG Studio Series fridges:
1. LG LSSC243ST LG Studio Series Counter Depth Side by Side Refrigerator
OVERVIEW:

This is the one and only LG Studio Series refrigerator that is side by side. If you are looking for a side by side refrigerator with sleek styling of a built in refrigerator look, then look no further. This fridge is the one. Read the Full Review
Rating:





---
As for the 2 models of French door LG Studio Series refrigerators, they are all very much the same in everything from size to features except a few things:
2. LG LSMX214ST LG Studio Series Counter Depth 4 Door French door Refrigerator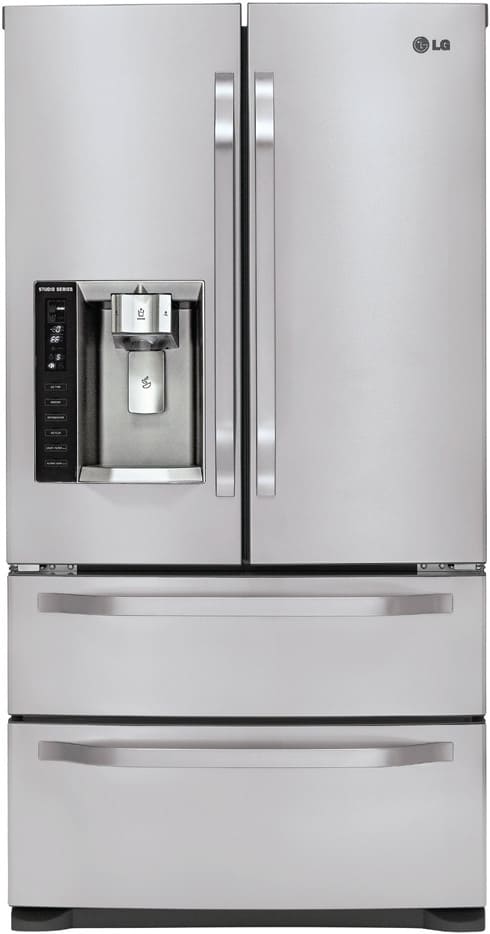 OVERVIEW:

If an external ice/water dispenser is important to you then this may be the fridge to look at. It is currently the only French door refrigerator with an external ice/water dispenser in the LG Studio Series Refrigerators line. This feature and many others have made it a very popular refrigerator.
FYI: Be aware that it is not Energy Star rated and may/should use more power than the LG Studio Series refrigerator listed below. Read the Full Review
Rating:





---
3. LG LFC21776ST French Door Counter Depth Refrigerator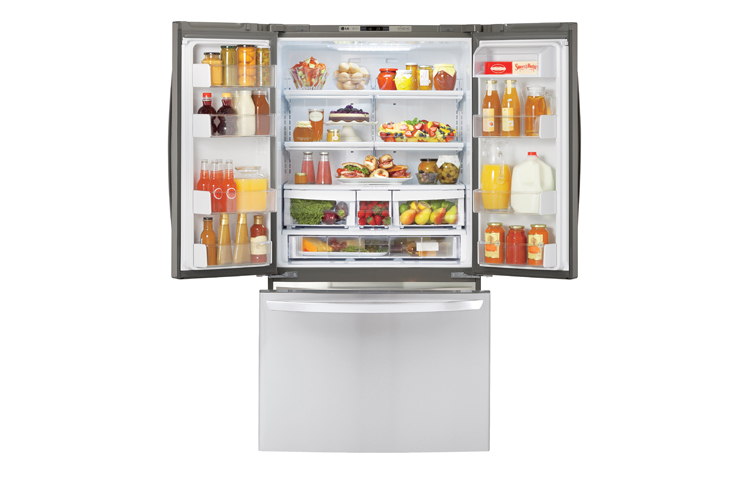 OVERVIEW:

This LG refrigerator has just a bit more storage space; the difference in this model has to do with not having an external water dispenser. This model offers better storage capacity with it's 6 door bins instead of the 4 that the other two have. This is Energy Star rated which will save you money.

The lighting in the refrigerator portion is LED but the freezer light in this one is a 60w bulb. Still a model worth considering. Read the Full Review
Rating:





---
Features in LG Studio Series Fridges
To give you a pretty good idea of the features offered by the refrigerator models in this series, typically they come with the following:
Glass, slide out, spill safe Shelves in the refrigerator

4-6 Door Bins

Gallon Storage on the Door

2 Humidity Controlled Crispers

External Water dispenser and Ice Maker (there is one that does not have this)

Dairy Center

Child Lock (in most but not all)

Digital Temperature Control

Quick Freeze (this allows you to freeze something at a rapid pace to guarantee freshness)

Energy Star Rated (this in most but not all)

LED Lighting to help you find whatever it is you are looking for
---
Other LG Counter Depth Refrigerators
If the Studio Series refrigerators don't seem to line up with what you are looking for, then take a look at the ones listed below. They are all by LG and counter depth.
---
LG Refrigerators

Built In Refrigerators

Refrigerator Reviews