GE Profile PSB48YSXSS Refrigerator
48" Built In Side by Side Refrigerator with Ice/Water Dispenser – Stainless Steel

Overall: The GE Profile PSB48YSXSS refrigerator is a beautiful stainless steel 48" built in refrigerator that will offer a ton of space as well as style and beauty to any kitchen.
Take a look at some of the extra added features below that make this refrigerator stand out a bit more.

Capacity: 29.6 cu. ft.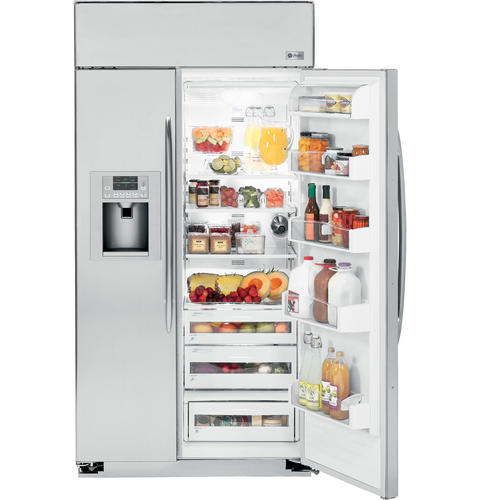 Notable Features:



Ice & Water Dispenser: Besides the obvious, this dispenser does more such as enabling the Quick Ice™ feature to make ice in half the time. It also has a door alarm to let you know if the door is left open before ruining lots of food. There is also a Child Lock feature that keeps your child from playing with the ice and water and making a mess.




Wine Bottle Holder: This is one of the little extras that make this fridge so special. While it only holds one bottle, the bottle is kept sideways and cool – ready for use at all times.




Large Amount of Storage: When you hear over 29 cu. ft. of storage space you know that it's large but this GE Profile refrigerator has many places to store this food very effectively. Between the 4 drawers, 4 shelves and door bins there will always been enough room in the refrigerator. The freezer boasts 3 door bins and 2 slide out wire baskets for easy freezer organization.




NeverClean Condenser: Most people aren't aware that their refrigerator condenser needs periodic cleaning, which can significantly shorten the life span of their fridge. If you're someone who doesn't clean your condenser now, this is a great feature to have.

Colors: Stainless Steel

Efficiency: Is not Energy Star rated

MSRP: $6949 is the suggest retail price, not the actual retail price. We saw the cost on this refrigerator and knew there had to be a better one out there so we did some research to find you some of the best prices on the net. Here they are:
---
Similar Models to GE Profile PSB48YSXSS Refrigerator
Still not sure which 48" built in is right for your needs? No worries, here are three more similar models that are worth checking out:
---
GE Profile Built In Side by Side Refrigerator Reviews