GE Profile PSB48YGXSV Refrigerator
48" Built In Side by Side Refrigerator with Ice/Water Dispenser – Panels Required

Overall: The GE Profile PSB48YGXSV refrigerator is perfect for a larger family looking to add a built in 48" refrigerator to their kitchen.
Though this refrigerator will require panels on it and is not able to be used as a stainless steel version.

Capacity: 29.6 cu. ft.



Notable Features: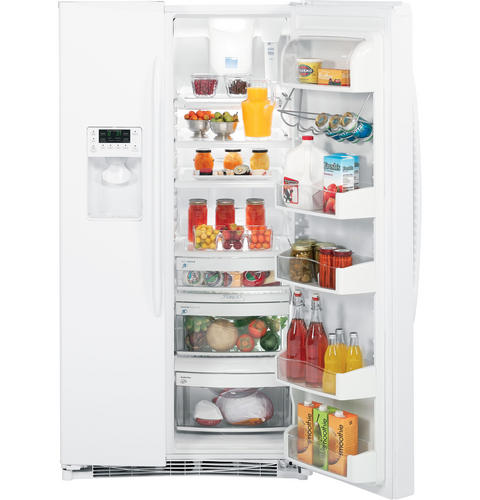 Overhead Evaporator: This is a feature you will find in most if not all built in refrigerators. By placing the evaporator above the refrigerator the warm air given off doesn't affect the temperature within. The heat rises and disperses away from the fridge.

Quick Ice Option: If you've ever run out of ice in the middle of entertaining you will love this feature. It allows your icemaker to make ice twice as fast as usual.

ClimateKeeper with Dual Evaporators: This allows food in both your refrigerator and freezer to remain fresher for longer. The air from each compartment is separate and is able to contain the exact amounts of humidity necessary. It's also great for not transferring odors from one side to the other.

FrostGuard™ technology: Keeping food in the freezer from getting freezer burn is very important to keeping them fresh. This technology allows for just the right amount of defrosting to keep the freezer clear of frost and not allow for burn

Colors: Panels required which means it will end up the color of the panels you place on it. As for the accents and the dispenser, they are all silver.

Efficiency: Is not Energy Star rated

MSRP: $5699 but don't worry -- this fridge averages less than $2500 on most sites like BestBuy.com

---
Similar Models to GE Profile PSB48YGXSV Refrigerator
Whether you loved the model above or you are still not sure, here are three similar models that are also built in and worth taking a look at.
---
GE Profile Built In Side by Side Refrigerator Reviews