Amana ART104TFD
Top Freezer Refrigerator Review
The Amana ART 104TFD Top Freezer with 14 Cu. Ft. of Storage, Reversible Door and Single Drawer Crisper


OVERALL:  The Amana ART104TFD Top Freezer Refrigerator is a classically styled refrigerator that has enough storage for 2-3 people max. 
This unit is most basic top freezer model currently made by Amana. Knowing this you won't be surprised to see that it is lacking in many of the extra features you might find in the higher priced models.
---
That said, it's reliable, inexpensive and stylish and was one of the reasons we added it to our list of Recommended Amana Top Freezer Refrigerators. 


Notable Features of the Amana ART104TFD Top Freezer Refrigerator:

As mentioned above, this Amana ART104TFD TOP Freezer Refrigerator isn't exactly loaded with bells and whistles, though nonetheless it still has a few worth talking about:

Full Width Crisper Drawer: This model has a single crisper drawer instead of two individual one. While it definitely does what it's meant to do, just be aware keeping a single drawer organized can be a bit more work.

*Recommendation: If this is the right refrigerator for you then  getting drawer organizers  should help you find what you're looking for easily and without things going bad at the bottom. Here are a few suggestions of what we're thinking about.


Dairy Bin: This feature simple & effective in making sure you can find what you're looking for. It's great for having things such as butter or cream cheese right on the door. No need to rummage through the entire fridge to find them.

Up-Front Screen Temperature Control System: The fact that Amana put the temperature Control dial upfront makes controlling the temperature much easier.

Even though this is the lower model we prefer the dial temperature control over that of the a RT318FFD which only offers three different settings. The dial in this model actually offers adjusting in increments between zero and five. Being able to stop in between the numbers allows you more control in getting the desired temperature you want.

Reversible Door Swing:  Having the ability to switch sides as to where the refrigerator opens to make a world of difference and this refrigerator allows you to do that.

You can make it right or left opening - just make sure to let the company you purchase it from when you buy it.


Optional Icemaker Kit: Regardless of being a base model you can add an icemaker.

Our best recommendation here would be to make sure that you have this done before it comes to you. The ideal is to have it done in the factory because their installation is far better than anything that will happen in your home.

Trust us don't let some sales person tell you it'll be just fine… it won't. We don't know why but after factory installations typically cause more problems than good.

Stylish Design:  Admittedly, we tend to like the look of these Amana refrigerators so we're a little biased.

They're both sleek and modern and have a tasteful design that works in almost any kitchen environment. 

That said, you have to decide for yourself if this is the look for you.


CAPACITY:   14.3 Cubic Foot Interior  (10.46 in the fridge and 3.87 in the freezer)


COLORS:  White, Black & Stainless Steel

MSRP:  $799.00

---
Other Relevant Information

When we do our reviews of refrigerators it' not enough for us to just give you our opinion. So we scour the internet to see what people have to say about them.
Here's what we found.
Pro's:
Inexpensive option for extra refrigerated storage.


Deep Freezer that can hold large items like a turkey.
Cons:
Only has 1 drawer which makes keeping it organized difficult. It is also not ideal for proper ventilation of veggies to stay fresh.


No drawer for cheeses & cold cuts


No shelf in the freezer makes keeping it organized very difficult. Again this would be another area that you will have to become creative in order to make it useful. 



Doesn't come with ice cube trays or a container to hold ice cubes.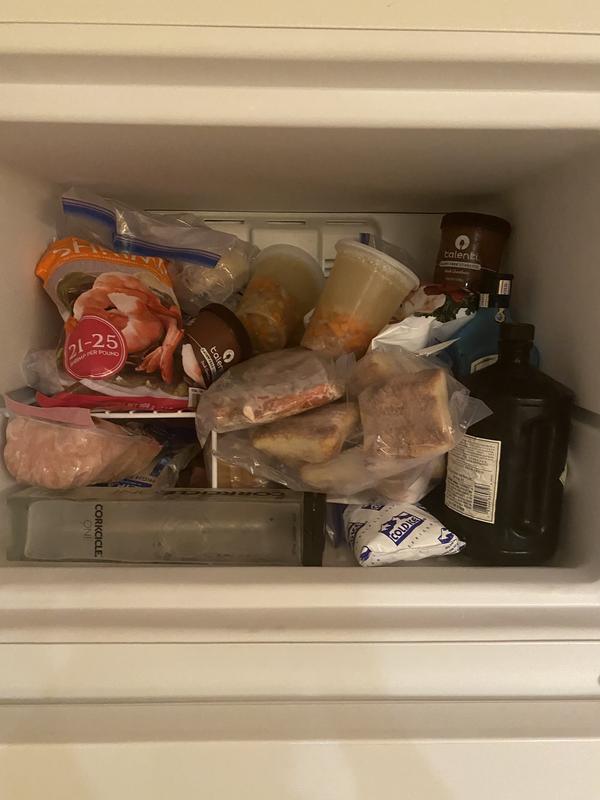 As you can see, having no extra shelves can make using the freezer space difficult if you don't add some type of organization to it.
---