Amana ABR2522FES Bottom Freezer Refrigerator Review
Amana 25.1 cu. ft. Easy Reach Plus Bottom Mount Refrigerator - Right Hinged - Stainless Steel Finish
Overall: The Amana ABR2522FES Bottom Freezer Refrigerator is like most Top Rated Amana Refrigerators, you just expect more out of them.
This Amana Bottom Freezer Refrigerator is well priced and has more than ample capacity, styling and features that enable it to compete with refrigerators that are twice the price.

Capacity: At 25.1 cu. ft., you'll find that this refrigerator has more than enough capacity to handle even your largest food stocking days. Convenient space savers like a Bottle caddy for your favorite drinks all in one place and the Slide-out upper freezer basket makes accessing smaller frozen foods much easier. The Glide-out lower freezer basket with QuickSplit™ organizer offers easier access to larger frozen foods.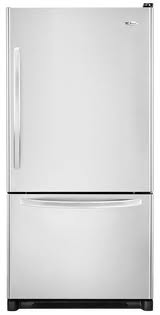 Style: For the price, this refrigerator just looks more expensive then it is. Its sleek and modern looking style should blend well into just about any kitchen decor. As with many in the Amana Refrigerator Bottom Freezer Line, this refrigerator comes with either a RIGHT door hinge or a LEFT door hinge (Model #ABL2522FES).

Notable Features:
We loved the touch controls to provide the fridge with more accurate temperature maintainence and the Temperature-controlled Chef's Pantry™ drawer with divider is a convenient way to keep meats and cheeses fresh.
The 2 humidity-controlled Garden Fresh™ framed crisper drawers actually kept our test fruits and veggies fresh well beyond the expected "wither" date.
There is no ice maker available on this unit which we felt was truly missed.

Colors: Our test unit was a Stainless Steel finish. It stood up okay to fingerprints and scratches and the finish was very easy to clean.

Efficiency: This model is ENERGY STAR® qualified - meaning it exceeds federal energy efficiency standards by 15% to help you save energy.

MSRP: $1,649.00 was the suggested retail price on the Amana ABR2522FES but considering that this refrigerator model has been discontinued if you can find one in the stores we've seen it for more than 50% off. You just have to be comfortable purchasing a discontinued model.
---
Similar models to the Amana ABR2522FES Bottom Freezer Refrigerator
Want to know what Amana is doing now with their current bottom freezer refrigerators versus what they did in the past with this discontinued one? Go ahead to our Amana Refrigerator Reviews page to see. Not sure if you want to stick with Amana? No worries, we've got it covered. Just click on any other link either below or to the left.

---