Amana ABL2527FES Bottom Freezer Refrigerator Review
ABL2527FES Amana Easy Reach™ Plus Refrigerator - Left Hinged - Stainless Steel Finish
Overall: The Amana ABL2527FES Bottom Freezer Refrigerator, with 25.1 cu. ft. of storage space, is one of the largest Amana Bottom Freezer Refrigerators.
The amount of capacity is astounding especially for this price range. With all that space, the one recommendation we would make to you is to opt for the ice maker (which is optional on this particular model). It takes up less room than you think and rarely does an icemaker NOT come in handy!
The stainless steel finish is gorgeous and the interior is exceptionally well designed. This refrigerator has twice made our Top 10 Refrigerators List. It's definitely a great buy.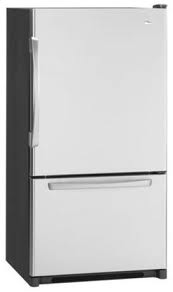 Capacity: With 25.1 cu. ft. of storage space, you will find plenty of space for just about anything. This refrigerator is more than ample for the typical family of four. Convenient space savers like the Bottle caddy which corrals your favorite drinks in one convenient place and the Glide-out lower freezer basket with QuickSplit™ organizer offers easier access to all your frozen foods. The Two EasyGlide™ shelves pull out so even food way in the back can't hide.

Style: This Amana Bottom Freezer Refrigerator is one of the best rated when it comes to style. The styling is classic, yet quite modern and will fit well in most existing kitchen decors.This model opens with a left door hinge but is also available in a Right Door Hinge Version.

Notable Features:
The Electronic Temp-Assure® freshness design puts the ability to maintain consistent temperatures at your fingertips
the Temperature controlled Chef's Pantry™ drawer with divider helps keep meats and cheeses fresh.
Again, we HIGHLY recommend you opt for the icemaker. For an extra $150.00-$200.00 this unit simply isn't the same without it and with 25.1 cu. ft. of space, you certainly have the room.

Colors: Our test unit was a Stainless Steel finish. It didn't stand up too well to fingerprints, but was not susceptible to light scratches unlike other Amana Stainless Steel Refrigerators.

Efficiency: This model is ENERGY STAR® qualified - meaning it exceeds federal energy efficiency standards by 15% to help you save energy, and runs as quiet as a church mouse.
(Should you be looking an energy efficient refrigerator, here is our list of Energy Star Refrigerator Reviews.)


MSRP: $1,900.00 was the recommended retail price but it has been discontinued. If you are actually able to find the Amana ABL2527FES still for sale it should be substantially less than this.
If you are looking for a model that isn't discontinued, then scroll down to see 3 other current bottom freezer refrigerator reviews or click on our button below to see our favorite Amana bottom freezer refrigerators.
---
Similar Models to the Amana ABL2527FES Bottom Freezer Refrigerator
Considering most people don't want a discontinued model and the Amana ABL2527FES is discontinued, we suspect that you fall into this category which is why we've included a link to Amana Refrigerator Reviews below. This page will take you to the reviews of models that are currently still being sold. Just click on the blue box below: