Overall: The Amana ABB2227DES Bottom Freezer Refrigerator is a good choice if you're looking for a well priced bottom freezer refrigerator.

Some of the things we loved was the amount of usable space within the fridge. It had great features that worked well and we're of the level we would expect from Amana.

Though we were disappointed that the stainless steel is only on the doors and front. The sides of the Amana ABB2227DES are black. If the sides of your fridge will be hidden, then this fridge is a bargain. If not, you might consider a monochromatic stainless steel refrigerator. (That's just a fancy way of saying that the sides are gray and ice/water dispenser is either stainless steel or gray as well.)


Capacity: With 21.9 cu. ft. of storage space, you will find plenty of space for just about everything.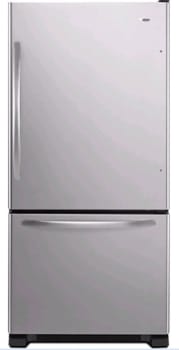 Convenient space savers like the Bottle Caddy which corrals your favorite drinks in one convenient place (giddy up!) and the Slide-out upper freezer basket keeps your frozen veggies within reach.
The Glide-out lower freezer basket with QuickSplit™ organizer offers easier access to all your other frozen foods.

Style: As mentioned above, other than the partial stainless, the styling of the Amana ABB2227DES is rather conservative. Its sleek and modern looking style should blend well into most kitchen decors, but be aware of the black sides.
This unit also has a reversible door hinge, so if you need to change the side that it opens from you can.

Notable Features:
The Reversible Door Hinge is really great for any kitchen.
We also really liked the Temperature-controlled Chef's Pantry™ drawer with divider is a convenient way to keep meats and cheeses fresh.
We HIGHLY recommend you opt for the ice maker. For an extra $150.00-$200.00 this unit simply isn't the same without it.

Colors: While the picture above is of the white model, we tested a Stainless Steel unit. It stood up surprisingly well to fingerprints, but was easily scratched. Otherwise as for everyday use, the finish was very easy to clean.

Efficiency: This model is ENERGY STAR® qualified - meaning it exceeds federal energy efficiency standards by 15% to help you save energy, and runs as quiet as a church mouse.
(If energy efficiency is important to you, click here to see our list of Energy Star Refrigerator Reviews.)

MSRP: $1,635.00 was the cost of this refrigerator but it has been discontinued. To help you find a similar refrigerator take a look below.
---
Amana Bottom Freezer Models Similar to the Amana ABB2227DES

This one may be discontinued but that doesn't mean that there aren't other Amana bottom freezer refrigerators worth looking at. Take a look at some others that we've reviewed for you that aren't discontinued.
---
Home › Bottom Freezer › Amana ABB2227DES
Home › Amana › Amana Bottom Freezer Fridges › ABB2227DES