Best Wine Refrigerators

Our Top Three Wine Refrigerator Models for 2020!

Choosing between Wine Refrigerators can be a frustrating process. 
Beyond figuring out the size and type you might need, you need to figure out what's the best Wine Refrigerator brand, model and at a price you can afford.

Why are you Buying a Wine Refrigerator?

Seems like a silly question to ask, but you should be asking this to start off.
Are you buying a Wine Refrigerator because you entertain a lot?  Because you have a good collection of wine that you want to protect? Because you want easy access to your favorite wines?
There are a number of reasons why someone might want to invest in a Wine Refrigerator, but the answers to questions like these will help you to minimize the time you spend searching.
To make this list of Wine Refrigerators as effective as possible, we chose three categories:
The Wine Collector:  This is someone who has a large collection of wine (but may not have a Wine Cellar), both reds and whites, who may wish to store their wines longer than usual.


The Wine Enthusiast:  This is someone who enjoys a bottle of wine or two (or three) a week and goes through their wine at a fairly rapid clip.  (Considering most of us are still under Quarantine, this might be ALL of us!)


The Wine-rtainer: Okay, we made up that word, but it speaks to someone who likes to break out the wine at dinner parties, events or gifts a lot of the wines they receive. 

We're also trying to keep this list as updated as we can.  We'll do our best to continually update this list to make sure we're featuring only the very best that they have to offer.
We also tried to make sure that we take into account a wide variety of budgets, so our choices range in price from as little as $500.00 to just over $3,500.00. 
---
Wine Refrigerators:  Protecting and Preserving

The ultimate goal of any Wine Refrigerator is to Protect and Preserve the quality of the wines you plan to store.
Heat and Light are enemies of any wine. 
So, you want to find ways to minimize these Wine Killers as much as possible. 
Most Wine Refrigerators come with tinted glass to minimize the amount of light exposure.  The models we mention below all include this protective feature.
But at the end of the day, the more consistent you can keep the temperature of your wines, the longer they will last and the better the quality they will provide upon uncorking.

---
Wine Refrigerators:  Higher Price Doesn't Always Mean Better Quality

Like many of the Refrigerator models that we review, a higher price doesn't always guarantee that you're going to the get the best quality Refrigerator.
The same is true with Wine Refrigerators.

Don't waste your money on expensive features you won't use. 
Unless you are a true Wine Collector who has a number of bottles in excess of $500, paying a ton of money for a Wine Refrigerator is likely a waste.
Many affordable models will achieve the protection you're looking for.
To this end, here are some of our favorite Wine Refrigerator models.


---
1. Allavino YHWR99-2BRN 99 Bottle Dual-Zone Wine Cellar Refrigerator 
We absolutely LOVE this Wine Refrigerator from Allavino. 
It's reasonably priced, stylish and holds almost 100 bottles of wine!
It has low impact LED lighting which allows you to see inside, but doesn't adversely affect the wine.
There's almost ZERO temperature fluctuation, which is crucial for wine preservation.
It also has smooth gliding hardwood shelves which make it easy for you to find your favorite vintage.
This unit also has ultra low vibration and a quiet operation.  
Lastly, beyond the digital control panel, it also has state of the art humidity control making sure your collection stays as protected as possible.
A unit of this caliber usually goes for $2000-$3000, but at just over $1000, it's a steal.

---
2. Lanbo Built-in Compressor Wine Chiller Single Zone Wine Cellar Fridge, 149 Bottle
This Lanbo Wine Refrigerator is a huge value at just over $1,000.00.
First off, it has a 149 bottle capacity which any wine enthusiast would find truly amazing.
It has an easy to reach and use digital touch control. 
This allows you precise temperature settings insuring the best quality control over your wine storage.
It also comes with double tinted glass preventing harmful UV rays from trying to damage your wine.  (Take THAT UV!)
It also has a carbon filtration system which keeps the whole unit smelling fresh and keeping any odors from damaging or over taking your wine.

---
3. Kalamera Wine Refrigerator- Dual Zone - For Kitchen or Bar with Blue Interior Light and Temperature Memory Function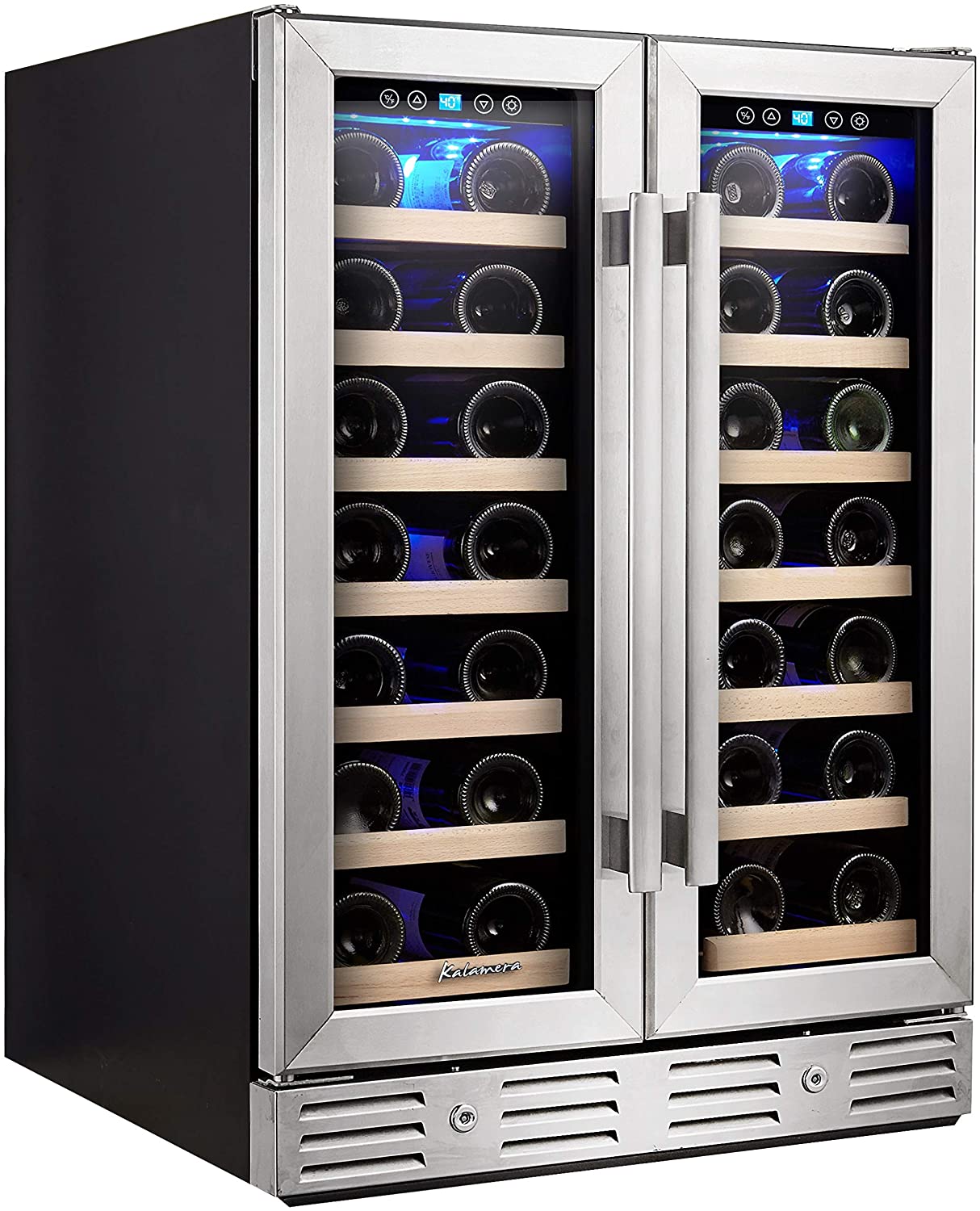 This dual zone Wine Refrigerator is one of the best bargains on the net.
It fits perfectly into a 24 inch space under a counter or bar.
It has a Dual Zone thermostat allowing you the ability to store red and white wines in the same unit.
It stores up to 40 bottles and has hardwood shelving and digital controls.
---
4. Frigidaire - 38-Bottle Wine Cooler - Stainless steel - Model:FFWC38B2RS
For just under $500, you can get this fantastic 38 bottle Wine Refrigerator from Frigidaire.
It has all the features of a high end model, but at a remarkable price point.
It's dual zone as well and allows you to alter the temperature as you see fit. 
It fits under any counter or bar or can be an attractive free standing piece. 
Either way, you can't go wrong with this amazing unit from Frigidaire.
---
5. Colzer Elegant 12 Inch Wine Cooler, 18 Bottle Wine Fridge Built-in or Freestanding Wine Refrigerator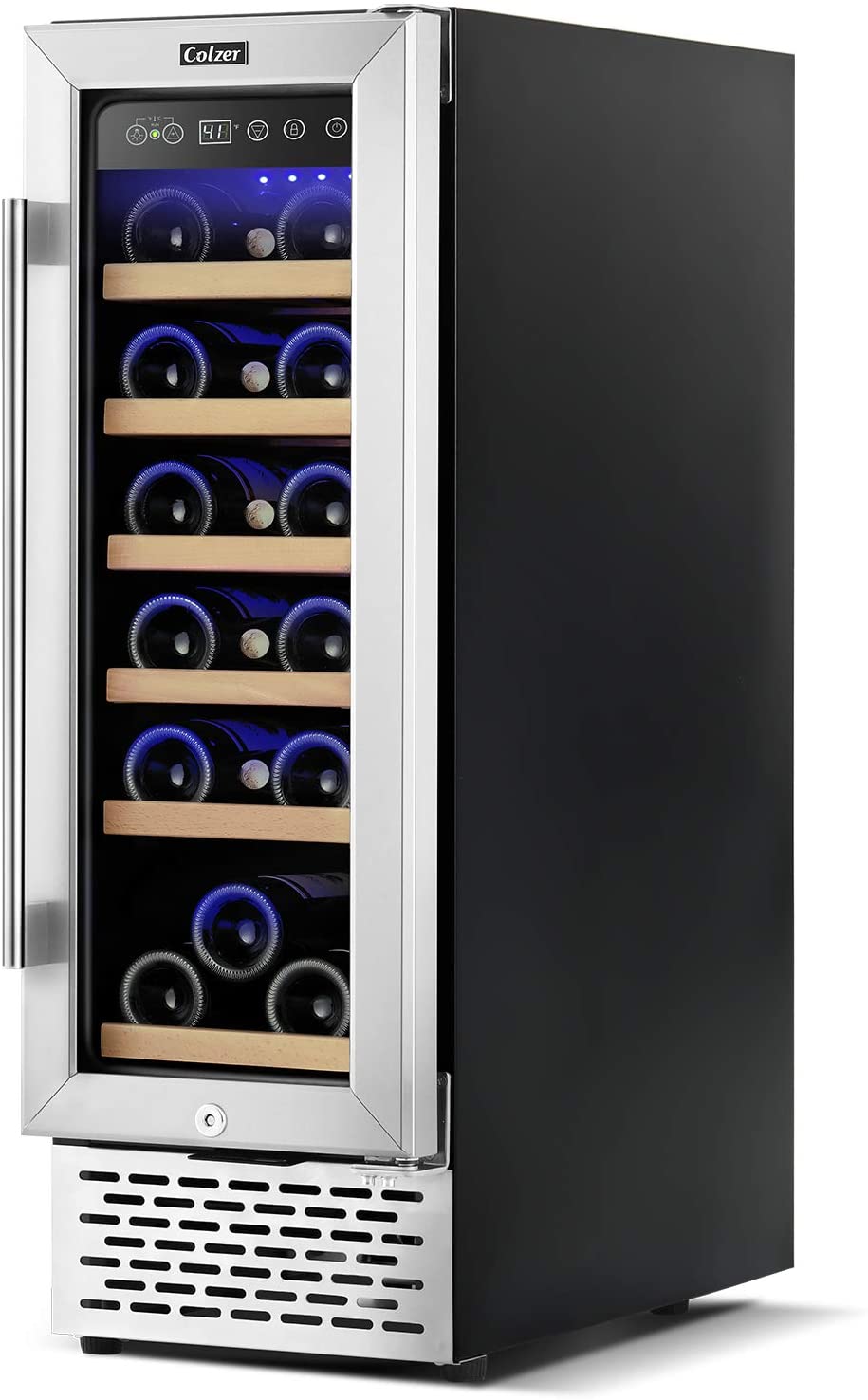 If you don't need storage of 50-100 bottles, this 18 unit wine cooler from Colzer is perfect.
It has a quiet compressor and Precise Humidity Control.
At only 23 inches wide, it fits just about anywhere.
It's perfect as either a free standing unit or under counter.
It also has front facing digital controls with a button lock feature which keeps you from inadvertently adjusting the temp.
There are a ton of reasons why we love this unit, but considering it's under $500, we love it that much more!

---