Sanyo Cube Refrigerator Review - Compact Cube Model No. SR-A1780W/K
The Perfect Sanyo Compact Refrigerator for Any Mini Kitchen
OVERALL: The Sanyo Cube Refrigerator SR-A1780W/K, is a petite but fun little refrigerator that provide you years of uninterrupted service.
It has a reversible door that has the ability to store a 2L bottle on the inside. It's small enough that you could conceivably store it at the edge of your desk, but wide enough inside that a carton of eggs would fit comfortably.
It has a small ice cube tray and leveling legs and one internal shelf. It's PERFECT for a dorm room or home office if your refrigeration needs are relatively small in nature.
The fact that it's a SANYO will help you know that the quality is there as well.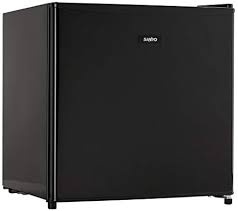 CAPACITY: It has a well designed 1.7 cubic foot interior storage capacity. Granted, it's small, but the intent here is not to store a side of beef.

That said, it has a unique side mounted ice tray which allows you to store larger items (e.g., a 2L bottle of soda) within the fridge itself.

The door storage capacity is surprisingly large considering the overall size of the refrigerator itself.

STYLE: How much style can the Sanyo CUBE refrigerator have? Well, if you're looking for cute, than the cube has it. It comes in two colors: white and black.

NOTABLE FEATURES: As mentioned above, there is a half-width freezer compartment which allows you to store larger food items within the microfridge itself. It also has an adjustable mechanical thermostat control which allows you to easily adjust the refrigerator to your specific needs.

The Cube doubled well as a beverage cooler and when we tested running it at a slightly warmer temperature, it worked well as a wine cooler.

COLORS: The Sanyo Cube comes in a Smooth Black design and a Smooth White design. However, you can easily CUSTOMIZE the look of your mini fridges with any form of media.

From sharpies to epoxy paints, the exterior of this refrigerator can be as unique as you are!

EFFICIENCY: Although it's not an Energy Star Compliant refrigerator, the Sanyo Cube Refrigerator runs on a fairly small amount of power and is quite efficient. Assume about $5.00 per month or so if running 24 hours a day.

(Should you be looking an energy efficient refrigerator, here is our list of Energy Star Refrigerator Reviews.)

MSRP: $250.00


---

Similar Compact Refrigerators

In case you wanted to compare this compact fridge with a few others, here are three similar models:

---