Samsung Four Door Refrigerator

A 28 cu. ft. 4-Door Flex™ Food Showcase Refrigerator with FlexZone™ Model No:  RF28K9380SG
OVERALL:  The Samsung Four Door Refrigerator RF28K9380SG is one of the most innovative and feature-packed refrigerators in the Samsung Refrigerator line.

---
This refrigerator has 28 cubic feet of interior storage space and the flexibility to increase that by converting the FlexZone freezer space into a refrigerator space (more on this below). 
Samsung is known for it's high quality appliances and this one delivers in spades.

We have named this refrigerator one of our Top 10 Refrigerators for 2019 and after you read through this review, we hope you'll see why.

Notable Features of the Samsung Four Door Refrigerator:

There are a number of exciting features on the Samsung Four Door Refrigerator:

Ice Master:   A massive space saving Ice Machine that cranks out almost 7lbs. of ice a day.


Energy Star Rated:  This is also an Energy Star Rated Refrigerator.  This means that a 16-20 cubic foot refrigerator with this rating will likely use less energy than a 60-watt light bulb.

Generally, the larger the refrigerator, the greater the energy consumption. But because of the other energy saving features of this refrigerator, it is highly efficient for its size.


FlexZone Feature:  Convert the space from Freezer to Refrigerator in an instant to suit your storage needs.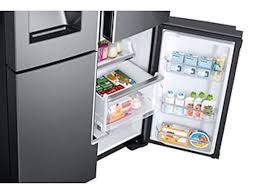 Food Showcase:  An outer door provides easy and quick access to some of your more commonly used items.

This helps save energy by keeping the cold air in.  Perfect for families on the go.

(Please note the picture below is NOT of the Samsung Four Door Refrigerator -- it's just showing off the Food Showcase feature.)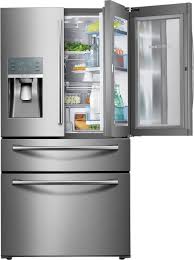 Triple Cooling Feature:  The Samsung Four Door Refrigerator also has Samsung's patented triple cooling feature which helps to keep your food fresher for longer.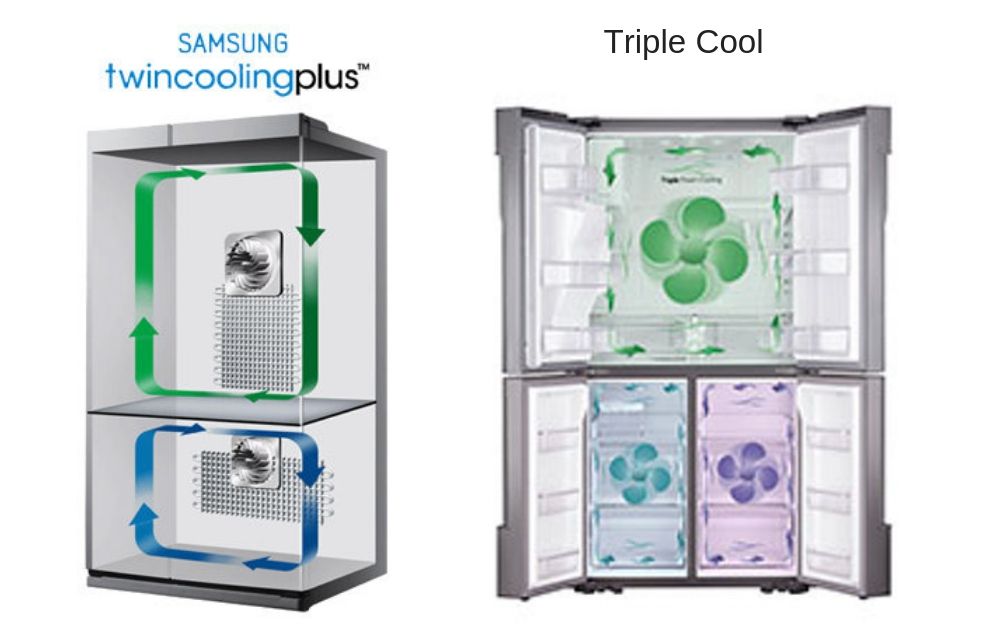 Adjustable Shelves:  Store taller items simply by flipping up the top portion of the shelf.  These may be slide-in or flip-up depending on the model you choose.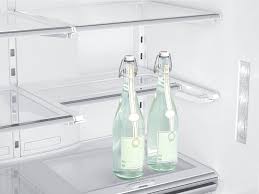 Fingerprint Resistant Doors:  One of the more annoying things about Stainless Steel (and even Black Finishes like this one) is that they can never seem to stay clean.

Typically, just one brush against the door with your fingers and you have oily streaks that never seem to go away.

Samsung has minimized this issue with their new fingerprint resistant finish.  This is standard issue on the new Samsung Four Door RF28K9380SG Refrigerator.

Other Relevant Information

CAPACITY:   28 Cubic Foot Interior


COLORS:  Black Stainless Steel


MSRP:  $3,199.00 (But closer to $2,199.00 online.)

---
---