Retro Refrigerator Models

When Modern Styling Feels Out of Date

Retro Refrigerator models are some of the latest in modern design trends. Where sleek and boxy Stainless Steel refrigerators have dominated the kitchens of the 90's and early 2000's, these vintage refrigerator styles are popping up in kitchens all over, but with the added convenience of modern day features.
French door and side by side refrigerator models are typically what you'll find in most family homes. But for small families, single people and those who have smaller kitchens, the idea of being relegated to a white or "bisque" top freezer fridge was just too boring.
Finally, manufacturers seem to be taking note and providing a number of antique refrigerator styles that address this ever growing demand.
Although many of these "old" refrigerator styles are limited in their interior capacity, they have a number of modern features such as ice makers, gallon door storage and fold away shelving that you might expect from a refrigerator built this century.
The growing trend had been leaning toward "blending in" where customized panels helped to hide your refrigerator (and other appliances) into the cabinetry.
Such is not the case with retro refrigerator models. These refrigerators are intended to stand out and make a statement about your particular design choices. They are a definite conversation starter and a great addition to any existing kitchen decor.
---
---
Retro Refrigerator Colors!
One of the more fun innovations is a return to a rainbow of fun, inventive colors.
The appliance category has been dominated by a color wheel that varied from black, to white to bisque. Minus the avocado and mustard colors from the 1970's, there really hasn't been that much of a variety.
And since Stainless Steel became all the rage in the early 1990's, there really hasn't been ANY sort of color choices at all!
Luckily, that trend seems to be coming to an end. With the recent introduction to new styles like Whirlpool's White Ice Appliance Line or GE's Grey Slate among others, the major appliance manufacturers are taking note. We're hoping this might just incite them to get a bit more creative when deciding on their color wheel for 2015!

---
---
Vintage Refrigerator Brands to Consider

Currently, there are only a handful of appliance manufacturers that are making vintage refrigerator models.
We have THREE favorites, Gorenje (UNFORTUNATELY, THESE UNITS ARE NOT AVAILABLE IN THE U.S.), Smeg, and Big Chill. All of these companies make fun, inviting models that take antique style refrigerators from the past into the future.
Here are a handful of some of our favorite models. Keep a sharp eye on these companies however as they are setting the trends in this area.
---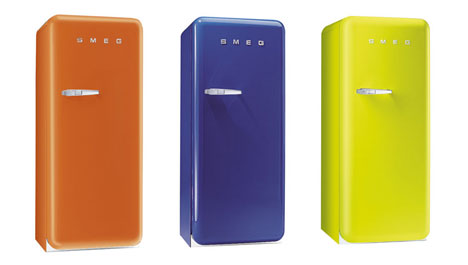 ---
Have You Bought a Retro Fridge?
Do you have a story about this? Share it!