LG LMX25986ST Four Door French Door Refrigerator
24.7 Cubic Foot Four Door French Door with External Water and Ice Dispenser - Stainless Steel Finish

Overall: The LG LMX25986ST Four Door French Door Refrigerator has the very unique and convenient feature of double freezer drawers.
It also has LG's exclusive Smart Cooling System which not only helps you to save energy, but also saves energy by keeping a consistent temperature throughout the refrigerator (no more frozen cold spots in the back of the fridge.
The external ice maker and extra large water dispenser are also wonderfully convenient.

Capacity: 24.7 cu. ft.

Notable Features: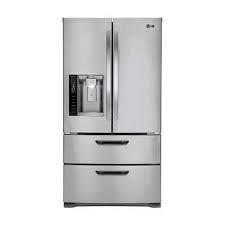 Double Drawer Freezer Compartment: Aside from the sleeker look the second freezer drawer provides. It also helps set the LG LMX25986ST French Door Refrigerator apart from the rest. The top freezer drawer can be used for vegetables, ice cream and more every day items, while the larger bottom drawer is best saved for items you wish to freeze for longer than a week or two (e.g., meats, leftovers, etc.)



Four Compartment Crisper System: Inside the LG LMX25986ST refrigerator, it's decked out with a 4 compartment freezer system that does more than just help you organize, it helps keep your food as fresh as possible, because you will know what's inside your fridge as well as you'll be able to avoid crowding too many foods together so that new foods don't get lost while up again older ones.
Extra Tall Ice & Water Dispenser: You can refill just about any container you can think of with this large size external ice and water dispenser. From flower vases to the family water pitcher, it all just fits.



Linear Compressor: This might not seem like a feature worth mentioning until you begin to understand what the linear compressor offers up in value.

Unlike a standard compressor that rotates, LG's unique Linear Compressor goes up and down (we saw this in action at the Consumer Electronic's Show in January 2012). This avoids a build up of friction (the arch enemy of machinery) giving you a more durable, more efficient working system.


Colors: This model comes in Black, White and Stainless.


Efficiency: Is Energy Star rated


MSRP: $2,699.99 is the suggested retail for the stainless model, while the black and white versions cost a bit less by about $200. This model has been on the market for a bit, so you might be able to find a better price. Our comparison tool is below:
---
Similar Models to the LG LFX31925ST French Door Refrigerator
In the 4-door refrigerator marketplace there really aren't many options. The Samsung 4 door offers a separate refrigerated drawer not a second freezer drawer. Though if you are interested in a regular French door refrigerator, LG makes many that are worth considering.
Here are a few models you may want to compare against the LFX31925ST:
---
  Best LG French Door Refrigerators