LG LFX25991ST Counter Depth French Door Refrigerator
24.6 Cubic Foot Counter Depth Refrigerator with External Water and Ice Dispenser - Stainless Steel Finish

Overall: The LG LFX25991ST Counter Depth French Door Refrigerator is one of the few Counter Depth models in the LG line.
Although you sacrifice some internal space when you get a counter depth refrigerator, this also helps to give your kitchen more of a professionally designed look.
The LG LFX25991ST also has an external water and ice dispenser which makes this a perfect family fridge for those who want a bit more style than a typical French Door Refrigerator.

Capacity: 24.6 cu. ft. is quite large for a counter depth refrigerator. To give you a better idea of size, most standard (non counter depth) sized French door refrigerators range anywhere from 28 to 31 cubic feet of interior storage space.

Notable Features:



Counter Depth As we mentioned above, LG doesn't make a whole lot of Counter Depth French Door Refrigerator models, so this pretty little number is a bit of an exception. This particular model gives you sleek, modern styling, but also has a number of interior and exterior features of fridges that are much larger than itself.




Three Tiered Freezer Drawer: To help keep your frustration levels at a minimum, LG has organized the freezer drawers into three separate compartments. This allows you to easily separate vegetables and meats, frozen dinners and frozen treats.




External Ice & Water Dispenser: Usually we veer away from having an External Ice and Water Dispenser on most French Door Refrigerators because of how the interior mechanism eats up too much storage space. However, LG has their unique Slim SpacePlus ice making system which makes this issue a thing of the past.

Also, LG has the Tallest water dispensers in their class at 12.6 inches allowing you the ability to easily fill just about anything.




Smart Pull Handle Our 4 year old had no trouble at all opening the bottom drawer of this french door refrigerator. Bulky opening mechanisms are now a thing of the past!

Colors: We've only been able to find this unit in Stainless Steel.

Efficiency: Is Energy Star rated

MSRP: $3,499.99. But be sure to shop around, we've found this unit 15-20% off at certain online retailers. See a list of what it's selling for right now: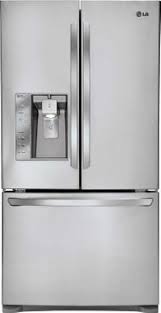 ---
Similar Models to the LG LFX25991ST Counter Depth French Door Refrigerator
Most refrigerator brands only manufacture one counter depth model per style at a time which makes looking for another model by LG difficult. While they do exist, they have already been discontinued (or soon will be) which can definitely decrease the cost, but in the end it can also shorten the lifespan of your fridge as well. (Most companies only make the parts for their fridges for 5-7 years.)
Knowing this we thought we should show you a handful of other counter depth refrigerators to compare against the LFX25991ST:
---
  LG French Door Refrigerators Reviews