LG LFX25960ST French Door Refrigerator Review
French Door Refrigerator w/Ice & Water Dispenser
OVERALL: The LG LFX25960ST French Door Refrigerator hasn't received the greatest of refrigerator reviews over the past year or so. The icemaker has some serious issues and there are major design flaws inside the fridge that you should be wary of.


PROS: There were a few things that really stood out for us on this unit...


It has an in door integrated ice maker which puts the entire icemaker and water dispenser into the door maximizing the interior capacity.

Sleek design makes this refrigerator a perfect addition to any existing kitchen decor.

Spill Proof glass shelving helps to contain your messes to one shelf only.

CONS: Unfortunately, there were many cons with this particular model though three stood out in particular...
Numerous consumers complained that the ice maker was slow, if it worked at all.

There were also problems with air flow, causing a build up of cold air in the bottom of the fridge if there were larger food items kept on the bottom shelves. This ended up freezing the fresh vegetables and fruits.

Additionally, the ice maker jammed quite often as did the freezer vents in a number of consumer reviews.

For the price, you can definitely find a better alternative.
MSRP: The price was $2,599.99 but this model has been discontinued and is no longer being sold. It has been replaced with a new model LFX25961 which comes in stainless, aluminum, black and white.
Click here for the Best LG French Door Refrigerators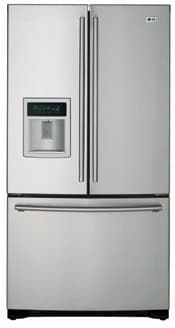 ---
Similar French Door Refrigerator Models
As you can see from above this model of LG French door refrigerator is no longer being made so we thought you might want to see a few other French door refrigerators.
---